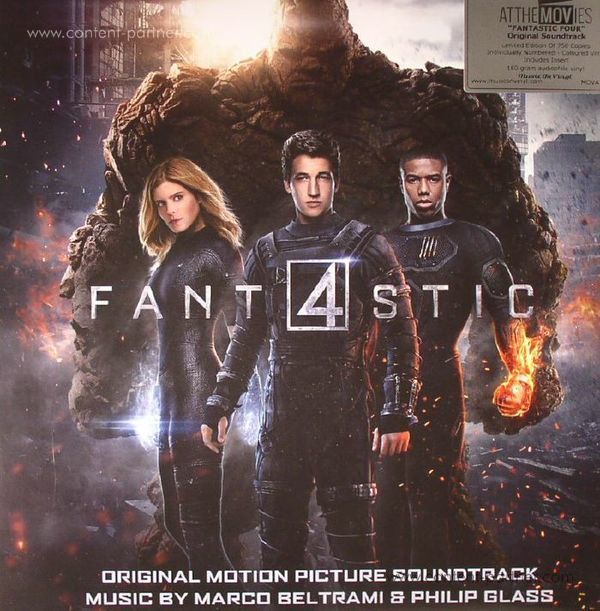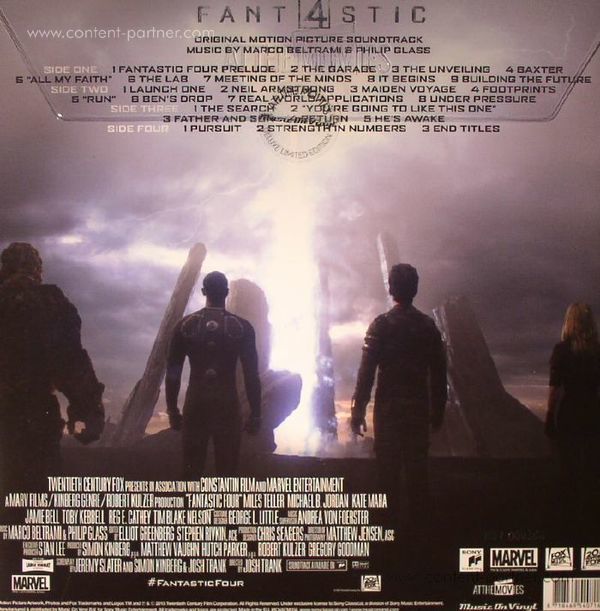 Fantastic Four (2015) (Black/White marb. Vinyl)
1.
"Fantastic Four Prelude" (5:15)
---
3.
"The Unveiling" (1:03)
---
7.
"Meeting Of The Minds" (0:52)
---
9.
"Building The Future" (2:52)
---
11.
"Neil Armstrong" (2:57)
---
12.
"Maiden Voyage" (1:55)
---
16.
"Real World Applications" (1:38)
---
17.
"Under Pressure" (1:01)
---
19.
"You're Going To Like This One" (1:08)
---
20.
"Father & Son" (1:44)
---
24.
"Strength In Numbers" (5:16)
---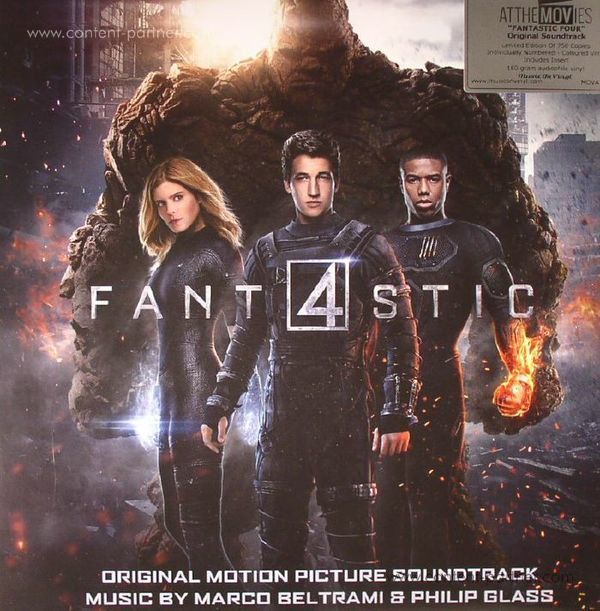 description
- 180g Vinyl - Gatefold - Einleger - Limitierte, nummerierte Erstpressung von 750 Stück im schwarz weiss marmorierten Vinyl Von Regisseur Josh Trank und Drehbuchautoren Jeremy Slater und Simon Kinberg (X-Men: First Class; Days Of The Future Past, Sherlock Holmes) ist "The Fantastic Four" eine aktuelle Neuinterpretation von Marvels erstem und am längsten bestehendem Superhelden-Team.

Der "Fantastic Four" Score hat sich aus der Neugier der jungen Protagonisten entwickelt.

In Zusammenarbeit mit der lebenden Legende Philip Glass erklärt Komponist Marco Beltrami (Wolverine, Hellboy) "Was wir versuchten musikalisch zu erreichen, war ein Geist von Neugier und Unschuld.

Wir waren von den wissenschaftlichen Entdeckungen aus dem Blickwinkel dieser jungen Charaktere des Filmes inspiriert, und wie ihre Neugier sich zu einer Position der Macht entwickelt." Drei von Philip Glass' vorangegangenen Film-Kompositionen wurden für den Oscar nominiert: "Kundun" (1997), "The Hours" (2002) und "Notes On A Scandal" (2006).

1999 gewann er den Golden Globe für seinen Soundtrack zu "The Truman Show".