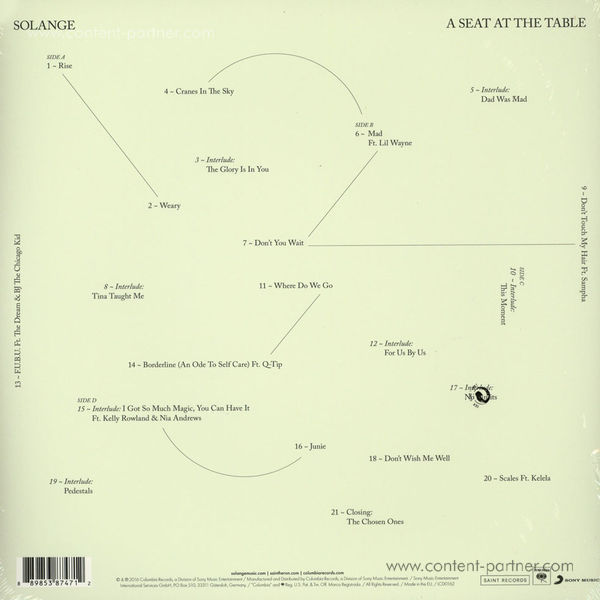 3.
The Glory Is In You (Interlude)
---
5.
Dad Was Mad (Interlude)
---
8.
Tina Taught Me (Interlude)
---
9.
Don't Touch My Hair feat Sampha
---
10.
This Moment (Interlude)
---
12.
For Us By Us (Interlude)
---
13.
Fubu feat The Dream & Bj The Chicago Kid
---
14.
Borderline (An Ode To Self Care) feat Q-Tip)
---
15.
I Got So Much Magic, You Can Have It feat Kelly Rowland & Nia Andrews (Interlude)
---
17.
No Limits (Interlude)
---
19.
Pedestals (Interlude)
---
21.
Closing: The Chosen Ones
---
description
Vor mittlerweile dreizehn Jahren startete Solange Knowles (die
fünf Jahre jüngere Schwester von Beyoncé) ihre Solo-Karriere -
die bis dato allerdings gerade mal drei (!) Alben hervorbrachte:
"Solo Star" (2003), "Sol-Angel And The Hadley St. Dreams"
(2008) und "True" (2012). Das mag u.a. daran liegen, dass sich
die 30-jährige Sängerin, Songwriterin und Produzentin für die
Entstehung ihrer Longplayer recht viel Zeit lässt. An ihrem
neuen Album "A Seat At The Table", das u.a. Kollaborationen
mit Lil' Wayne, Sampha, The-Dream, BJ the Chicago Kid, Q-Tip,
Kelly Rowland und Kelela enthält, arbeitete die Texanerin
bereits seit 2013. "Das Album ist ein Projekt über Identität,
Empowerment, Unabhängigkeit, Trauer und Genesung", erklärt
Solange. Gemeinsam mit Altmeister Raphael Saadiq, der als
Produzent bereits für u.a. D'Angelo, The Roots und Macy Gray
aktiv war, hat sie eine minimalistische Mischung aus R&B, NeoSoul
und dessen Wurzeln in den mittleren und späten
Neunzigern zusammengestellt. Solange gelang mit "A Seat At
The Table" erstmal der Sprung an die Spitze der US Album
Charts.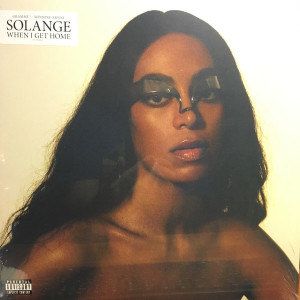 €21.99
€10.49