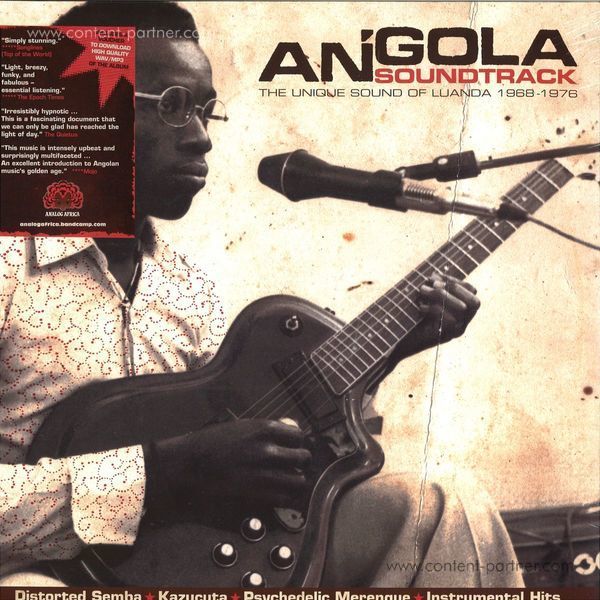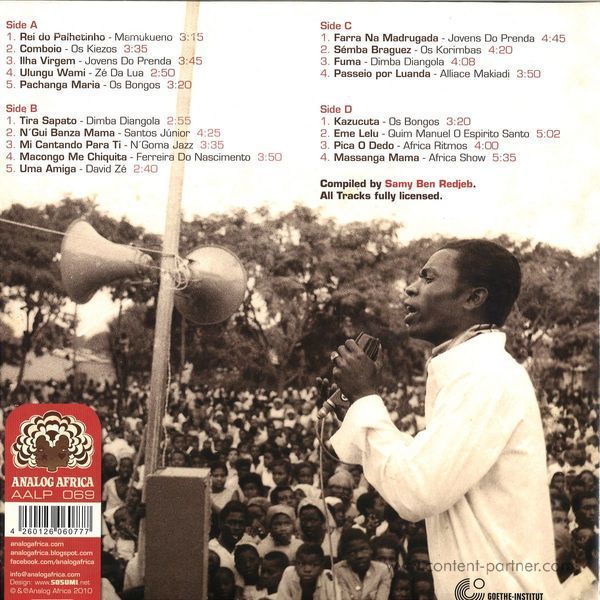 1.
Mamukueno - Rei Do Palhetinho
---
3.
Jovens Do Prenda - Ilha Virgem
---
4.
Zé Da Lua - Ulungu Wami
---
5.
Os Bongos - Pachanga Maria
---
6.
Dimba Diangola - Tira Sapato
---
7.
Santos Júnior - N´gui Banza Mama
---
8.
N´goma Jazz - Mi Cantando Para Ti
---
9.
Ferreira Do Nascimento - Macongo Me Chiquita
---
11.
Jovens Do Prenda - Farra Na Madrugada
---
12.
Os Korimbas - Sémba Braguez
---
13.
Dimba Diangola - Fuma
---
14.
Alliace Makiadi - Passeio Por Luanda
---
16.
Quim Manuel O Espirito Santo - Eme Lelu
---
17.
Africa Ritmos - Pica O Dedo
---
18.
Africa Show - Massanga Mama
---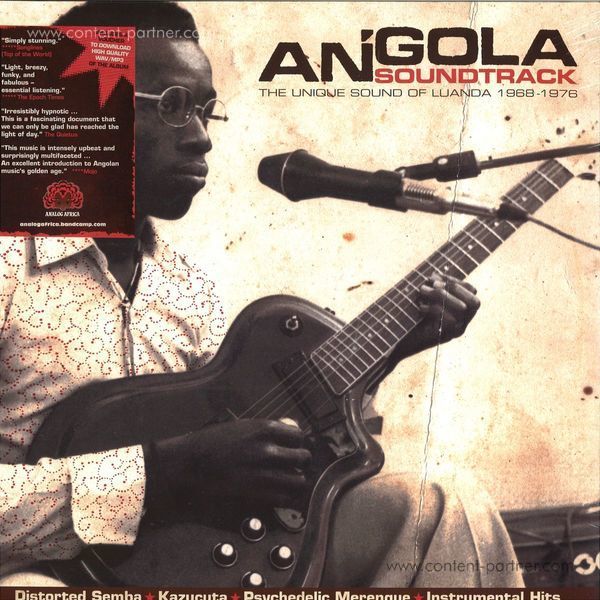 description
The nascent Angolan music scene was set on fire by a small group of intrepid singers, backed by an array of super tight bands and led by extraordinary guitarists who revolutionized the musical and the political panorama of the 60s and 70s. A powerful confluence of traditional rhythms from Luanda's islands, psychedelic guitar sounds imported from neighbouring Congo, Latin grooves, old school Caribbean merengue and the hard beat of the angolan carnival bands conspired to create the modern music of Angola. These sounds were immortalized by two excellent recording companies - Fadiang (fábrica de discos angolano) and Valentim de Carvalho.

Angolan music is truly unique and stands on its own as a sound that can only be found in that part of the world. Rhythms such Rebita, Kazukuta, Semba and Merengue, all of which are presented in this latest compilation, might be unfamiliar but they are superbly melodic, highly danceable, hypnotic, raw and quintessentially beautiful and totaly addictive. If given the chance, you will undoubtedly be riding grooves that shall guide you through an unforgettable melting pot of moods from a people glistening with musical prowess.