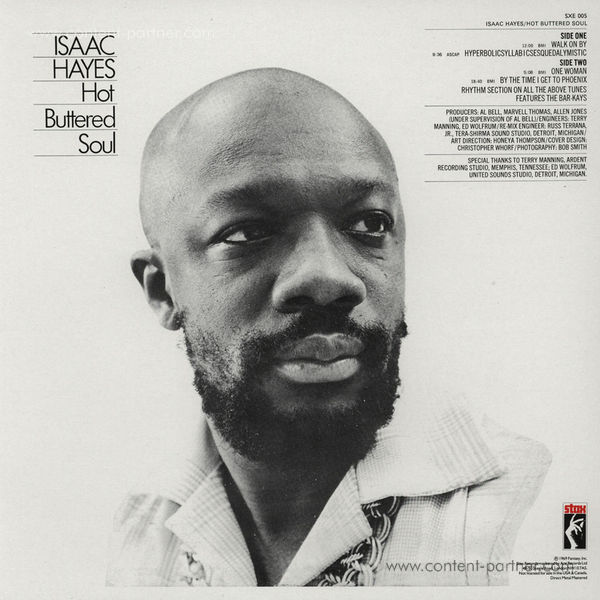 Hot Buttered Soul (LP) [Back to Black] (USED/OPEN
2.
Hyperbolicsyllab/Csequedalymistic
---
4.
By The Time I Get To Phoenix
---
description
PLEASE NOTE: PLAYED 1-2 TIMES - SLEEVE MAY SHOW SIGNS OF WEAR - STILL SOUNDS GOOD

Isaac Lee Hayes, Jr. (* 20. August 1942 in Covington, Tennessee; † 10. August 2008 in Memphis,
Tennessee) war ein US-amerikanischer Soulmusiker, Komponist und Schauspieler. Im Jahr 2002
wurde Hayes in die Rock and Roll Hall of Fame aufgenommen. Mit seiner
markanten Bassbariton-Stimme und seinem Sprechgesang war der Soulsänger ein Vorläufer des
Rap und HipHop.
1971 gelang ihm der weltweite Durchbruch mit dem Titelsong zu dem Blaxploitation-Film Shaft. Er
gewann den Oscar, den Golden Globe, zwei Grammys, den NAACP Award und den Edison Award.
Das Soundtrackalbum erreichte Platin-Status, was einem afroamerikanischen Künstler noch nie zuvor
gelungen war.
Am 28.10. kommen drei Re-Issues seiner bekanntesten Alben Shaft, Hot Buttered Soul, Black Moses
und eine Greatest Hits Zusammenstellung auf VINYL heraus. Für jeden Vinylsammler natürlich ein
Muss.