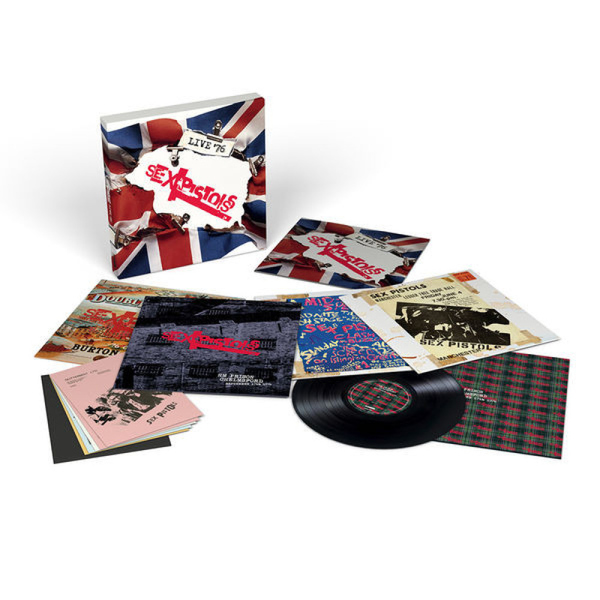 Live 76 (Ltd. Edt. 4LP)
genre:
Punk International
1.
Manchester, Lesser Free Trade Hall, June 4th 1976
---
7.
Whatcha Gonna Do About It
---
15.
Islington, Screen On The Green, August 29th 1976
---
31.
HM Prison Chelmsford, September 17th 1976
---
32.
Anarchy In The UK (Incomplete)
---
41.
No Feelings (Incomplete)
---
46.
Anarchy In The UK (Encore)
---
48.
76 Club, Burton On Trent, September 24th 1976
---
description
Eine absolute Legende der Musik- und Livegeschichte: Die Sex Pistols.
Das limitierte Boxset Live '76 präsentiert vier einzigartige Liveaufnahmen der Punkrevolutionäre aus
dem Jahr 1976.
Die Aufnahmen sind als 4CD und 4LP Variante zum ersten Mal gemeinsam in diesem Format
erhältlich.
Enthalten sind folgende Konzertaufnahmen: 4. Juni: Lesser Free Trade Hall, Manchester – Erst vor
kurzem neben Woodstock zu einem der wichtigsten Konzerte aller Zeiten gewählt worden. 29. August:
Screen on the Green, Islington – Der berühmte Gig ging als 'Midnight Special' in die Geschichte ein,
u.a. auch wegen ihrer Supportbands The Clash und die Buzzcocks. 17. September: HM Prison,
Chelmsford – Dieses Konzert wurde in Chelmsfords Hochsicherheitsgefängnis aufgenommen. 25.
September: 76 Club, Burton on Trent – Wurde schon als Bootleg hoch gehandelt.