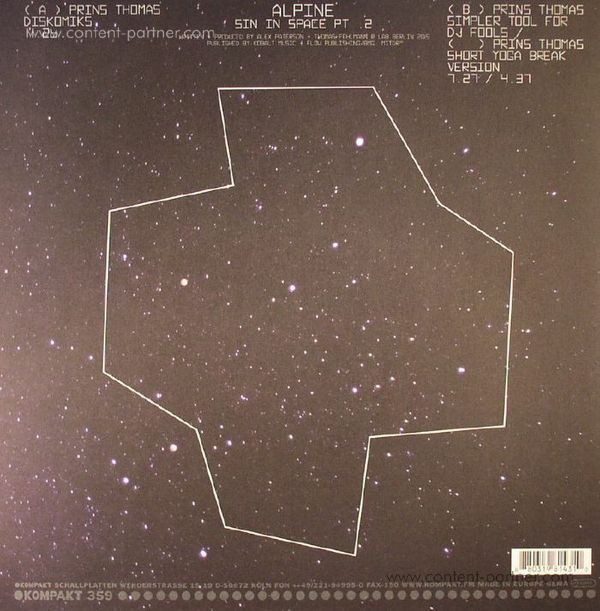 1.
"Alpine" (Prins Thomas Diskomiks) (11:10)
---
2.
"Alpine" (Prins Thomas Simpler Tool For DJ Fools) (7:24)
---
3.
"Alpine" (Prins Thomas Short Yoga Break version) (4:28)
---
description
JHot on the heels of the MOONBUILDING 2703 AD REMIXES / SIN IN SPACE PT. 1 (KOMPAKT 336), pioneering duo THE ORB receives a royal remix treatment by PRINS THOMAS: for ALPINE DISKOMIKS / SIN IN SPACE PT. 2, the Norwegian disco king reworked the cut "Alpine Evening" from The Orb's most recent release ALPINE (KOMPAKT 339) and infused it with his trademark floor magic, turning the psychedelic stomper into a well-oiled, highly energetic dance machine. It's not the first time that Prins Thomas revisits material from Kompakt artists (following his excellent work on Justus Köhncke and Vermont), but it certainly ranks among his very best (and most propulsive) efforts to date. The main DISKOMIKS gets backed by two versions on the flip side: the SIMPLER TOOL FOR DJ FOOLS scratches that string itch, while the SHORT YOGA BREAK drops the beats altogether for extended atmospheric immersion – a perfect way to close this round of remixes for The Orb.