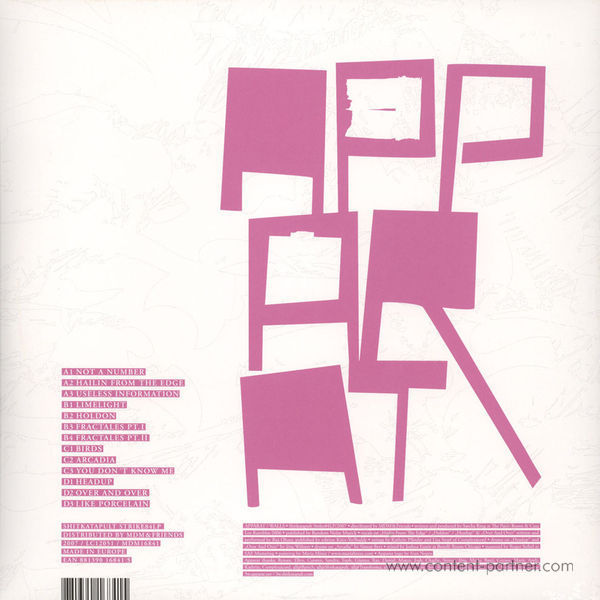 Walls (2LP)
genre:
Electro / Electronic
To order please add to basket and proceed to check out
description
Das 2007er Album "Walls" jetzt auch als Vinyl erhältlich.

2006 veröffentlichte Sascha Ring a.k.a. mit Ellen Allien auf Bpitch Control das Album "Orchestra Of Bubbles",
das wie eine Bombe eingeschlagen ist. Sie spielten jedes wichtige Festival und wenn nicht zusammen, so
spielte Sascha dort als Solo Artist - und das auch weltweit in den Clubs. Nach "Duplex" und "Silizium"
katapultiert er sich mit "Walls" direkt an die Spitze der internationalen Produzenten-Szene. "Walls" kann am
ehesten als Pop einer fremden, unheimlich schönen Art bezeichnet werden. Josh Eustis von Telefon Tel Aviv
(Hefty, CHicago) mixte das Album, Kathrin Pfänder und Lisa Verena Stepf von Complexácord spielen
Streicher, Jörg Wehner (Drums) und Klas Yngborn (Gesang "Lime"). Der Gesang von Raz Ozhara bringt gar
einen Justin Timberlake-Touch, Apparat selbst am Mic scheint sich in eine Art Thom Yorke des Techno zu
verwandeln. Pop als Konzept wird nicht bemüht, sondern auf den Punkt gebracht: Electronica, Beats, IDM,
Techno und Song in einem. Es ist nur Musik, aber die beste die ihr gerade kriegen könnt.