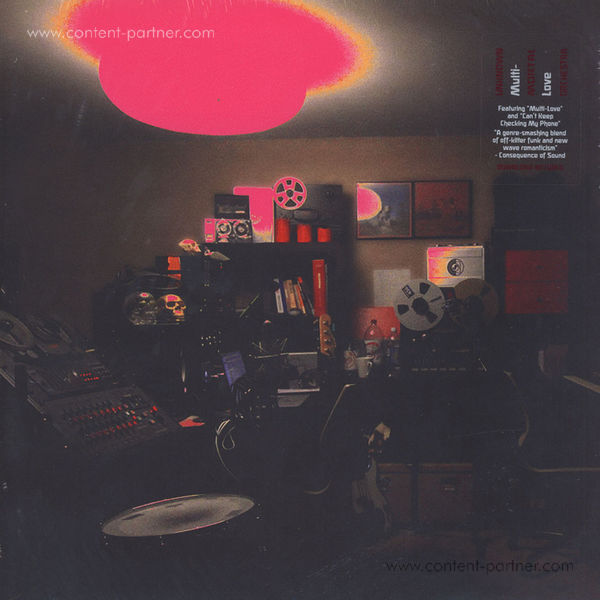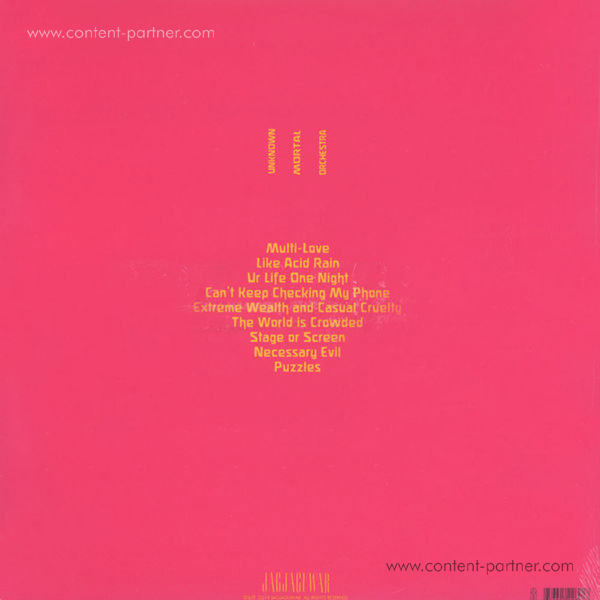 To order please add to basket and proceed to check out
4.
Can't Keep Checking My Phone
---
5.
Extreme Wealth & Casual Cruelty
---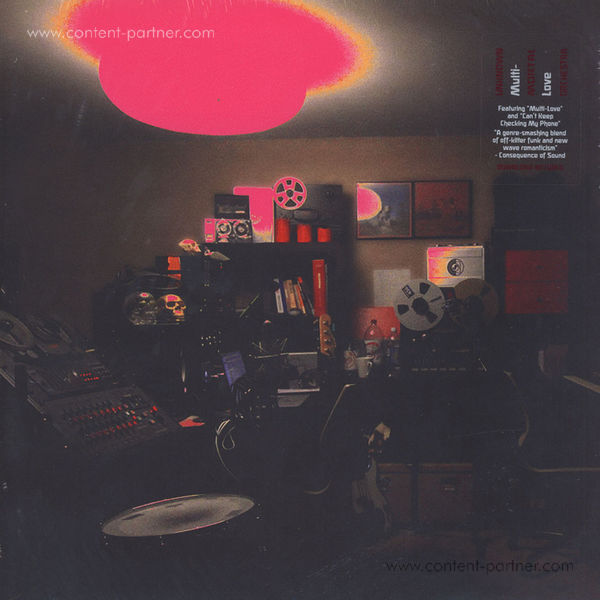 description
Immer wenn Ruban Nielson an die Vergangenheit denkt, drängen sich ihm Erinnerungen auf. Das nennt man Duplizität der Ereignisse.

Zumindest nenne ich sie so. Dann versucht Ruban die Fäden seiner Vergangenheit zu entwirren, eine zum Scheitern verurteilte Freizeitbeschäftigung, denn diese Fäden schweben wie unsichtbare Netze, die nur ab und zu gelegentlich glänzen, zum Beispiel wenn sie im richtigen Winkel vom Sonnenlicht getroffen werden.

Doch gereichen die entwirrten Fäden immerhin zu neuen Erkenntnisse über vergangene Beziehungen.

Was folgendes Ergebnis zeitigt: Auf ,Multi-Love" reflektiert UNKNOWN MORTAL ORCHESTRA Frontmann und Multi-Instrumentalist Ruban Nielson über Beziehungen.

Wo Nielson sich auf ,II" noch mit den Schmerzen des Alleinseins beschäftigt hat, kümmert er sich nun auf ,Multi-Love" um die Komplikationen des Zusammenseins.

Sehnsucht, Verlust, die Geometrie von Verlangen, die auftaucht, wenn Menschen sich zusammentun.

So weit so kurz zum thematischen Background des Albums. Doch neue Gedankenansätze fordern auch neue Herangehensweisen um sie adäquat zu artikulieren: Deshalb fügt die Band auf ,Multi-Love" ihrem ohnehin kaleidoskopischen Ansatz mit Nielsons neu entdeckter Würdigung von Synthesizern eine neue Dimension hinzu.

Die neuen Songs kanalisieren den Geist der Erfinder der Psychedelia ohne die letzten 40 Jahre Musik zu ignorieren.

Sie bilden ein fließendes, geschlossenes Ganzes, das ruhelose Kreativität widerspiegelt.

Kosmische Ausbrüche und Disco-Rhythmen verbinden sich mit neu entwickeltem Vokabular, während Nielsons Gesang kräftige neue Höhen erreicht.

,Es hat sich gut angefühlt zu rebellieren, gegen das typische Bild eines Künstlers und was er heute ist, ein Kurator", sagt Nielson.

,Es geht mehr darum jemand zu sein, der Dinge auf konkrete Arten möglich macht. Alte Synthesizer zu bauen und sie wieder zum Laufen zu bringen, Sounds zu kreieren, die nicht wie die von anderen klingen.