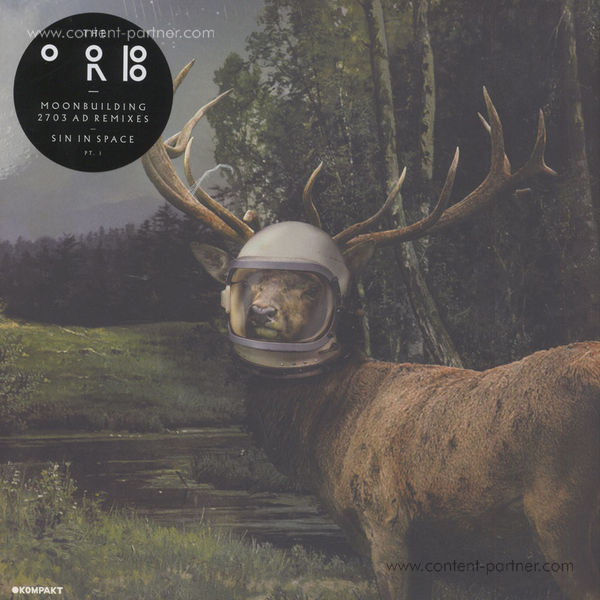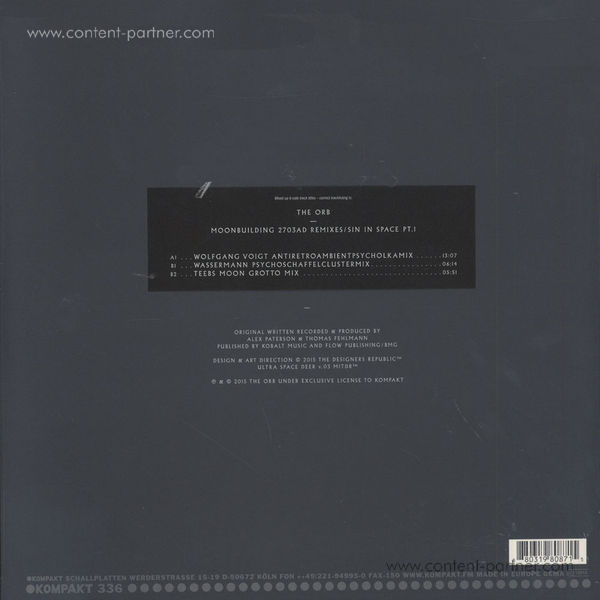 1.
Moonbuilding 2703 Ad (Wolfgang Voigt Antiretroambientpsycholkamix)
---
2.
Moonbuilding 2703 Ad (Teebs Moon Grotto Mix)
---
3.
Moonbuilding 2703 Ad (Wassermann Psychoschaffelclustermix)
---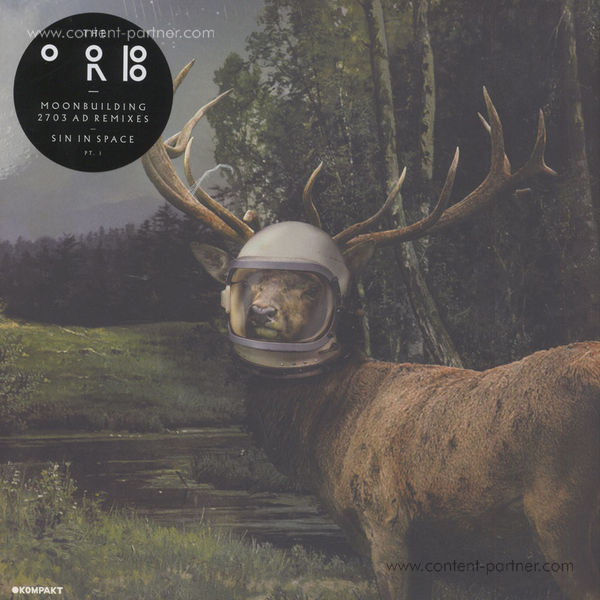 description
Orchestrating their return to Kompakt with the much-acclaimed new full-length MOONBUILDING 2703 AD (KOMPAKT 330 CD 124), iconic pioneers of electronic music THE ORB found fresh momentum in an enticing melange of psychedelic loops, deep textures and striving beats. The album saw the duo at the peak of its creativity, indulging in that distinct style of warped miniature epics they've perfected, ever oscillating between ruminant sampling and propulsive jamming. With MOONBUILDING 2703 AD REMIXES / SIN IN SPACE PT.1, we present three reworks willing to tackle the sonic thicket of the source material - and succesfully translating The Orb's unique brand of musical insanity into their own resourceful idioms.

WOLFGANG VOIGT's aptly named ANTIRETROAMBIENTPSYCHOLKAMIX is the first of two revamps from the Kompakt founder and veteran 4/4 anarchist - starting off innocuous enough with some gently colored ambient trickling, it then suddenly sidesteps into lush pop techno minimalism at its very best. Voigt's second take is a particularly bouncy one, rightfully billed as WASSERMANN PSYCHOSCHAFFELCLUSTERMIX and marking the renewed interest in his concept rave alter ego in the wake of leftfield banger EISEN MEIN HERZ on TOTAL 15 (KOMPAKT 340 CD 125). The trio of remixes gets rounded out by LA-based producer TEEBS - nurtured by Flying Lotus' Brainfeeder imprint, he has built his reputation on rich edit-style beat tapestry, brought to full fruition in his ingenious MOON GROTTO MIX.