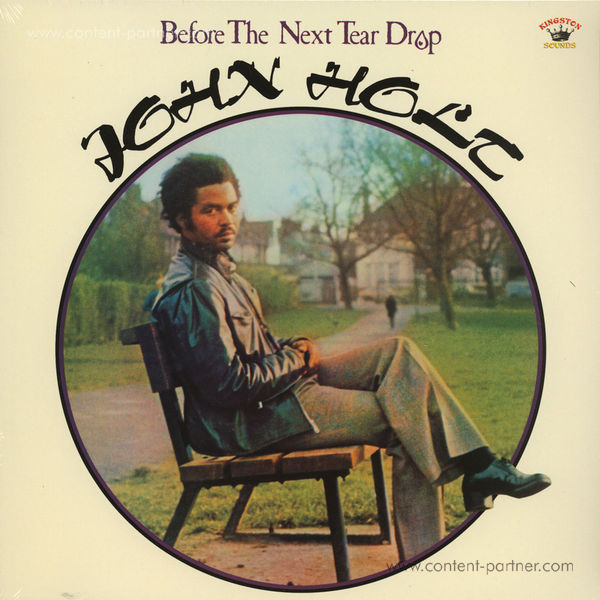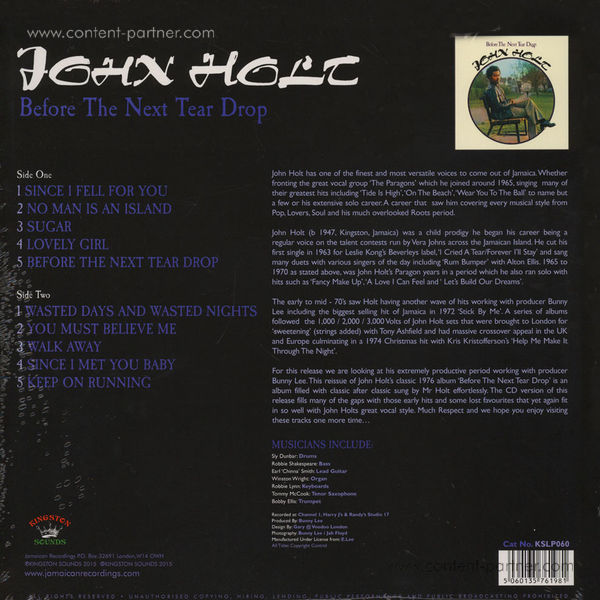 5.
Before The Next Tear Drop
---
6.
Wasted Days & Wasted Nights
---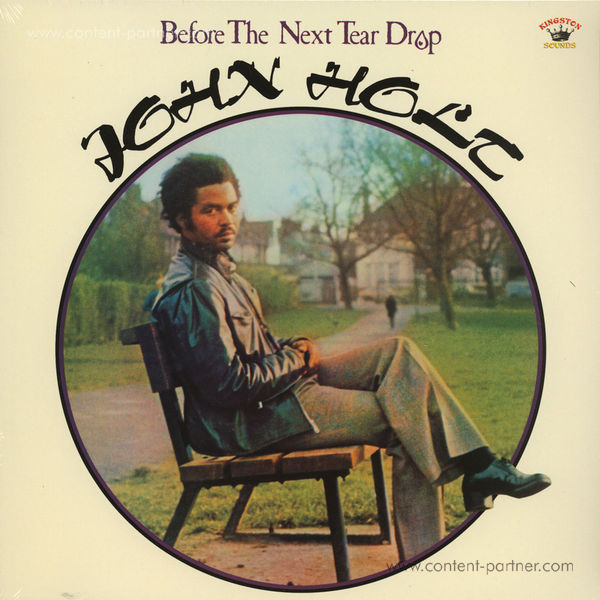 description
Reggae-Klassiker aus dem Jahr 1976, produziert von Bunny "Striker" Lee.

Auf John Holts Konto gehen zahlreiche Hits und Klassiker aus den Bereichen Pop, Lovers, Soul und Roots
Reggae. Doch gerade sein größter Erfolg, der Song "The Tide Is High", wurde erst durch Blondies
Coverversion 1980 zum Welthit. 1947 in Kingston geboren, galt Holt mit seiner schönen, klaren und
vielseitigen Stimme von klein auf als Wunderkind. Schon früh versuchte er sein Glück bei den zahlreichen,
regelmäßig in ganz Jamaika stattfindenden Talentwettbewerben. 1963 veröffentlichte er seine erste Single
bei Leslie Kongs Beverly-Label. In der Folgezeit sang er viele Duette mit verschiedenen Sängern.
Berühmtheit erlangte vor allem der Song "Rum Bumper", den Holt gemeinsam mit Aton Ellis aufnahm. Von
1964-70 war Holt Mitglied der Rocksteady-Gesangsgruppe Paragons. Nebenbei trat er jedoch auch solo mit
den Hits "Fancy Make Up", "A Love I Can Feel" und "Let's Build Our Dreams" in Erscheinung. Im Anschluss
an die Paragons-Zeit konzentrierte sich der Jamaikaner ausschließlich auf seine Solokarriere. Mit Erfolg. Sein
Song "Stick By Me" wird als meistverkaufte jamaikanische Platte des Jahres 1972 genannt. Das Album
"Before The Next Tear Drop" erschien ursprünglich 1976 und bietet ein Füllhorn an Evergreens. Es wurde
von Bunny "Striker" Lee produziert. Im Oktober 2014 verstarb Holt im Alter von 69 Jahren.