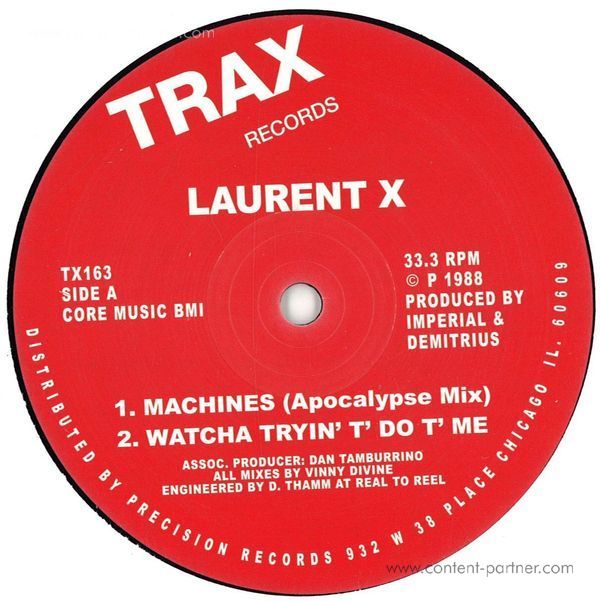 To order please add to basket and proceed to check out
1.
Machines (Apocalypse mix) (6:48)
---
2.
Watcha Tryin' T' Do T' Me (5:35)
---
4.
Drowning In A Sea Of House (4:19)
---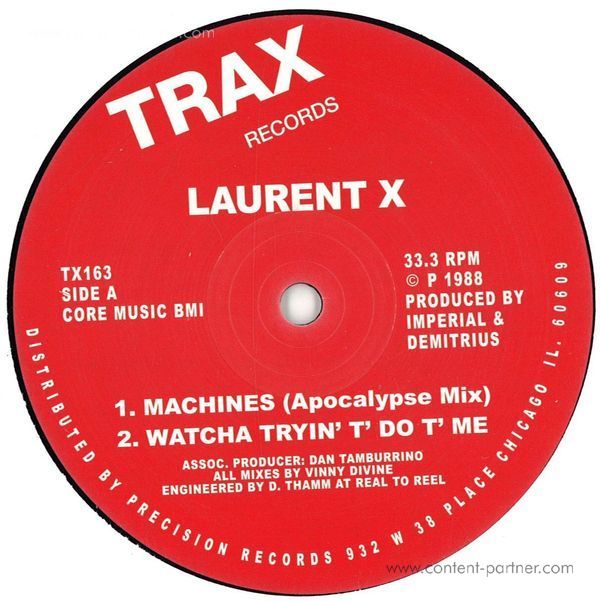 description
Made by Mark Imperial & Vinnie Devine as Laurent X, "Machines" was conceived in a 16 track studio with an unquestionable Roland TB-303, but also a TR-808, TR-909, a Juno 106, some FX and a bucket of rib tips. According to Mark Imperial, he and his friends (specially Vinnie Devine) had a mad fun playing with gear.

"I was DJing Italo imports since 1980, and as a regular on the Chicago DJ scene, naturally I became involved in DJ International Records from the beginning", says Mark about how the whole thing started.

It was what we call a 'thinktank', and these young producers all experimented with gear. Mark Imperial's exposure to the acid sounds of TB-303 came from his dear friend Adonis (the one responsible for "No Way Back"), and Mark's exposure to the Juno 106 from Dane Roewade.

About the equipment he made use at that time, Mark also stated: "I visited Detroit and was exposed to the Yamaha DX-100, a mere toy that was a staple to the Detroit sound at the time" (Derrick May, for example, did several of his early tunes' basslines with it, and Kenny Larkin confessed it was the equipment through which he made the etheral pianos of 'Yennek - Serena X' classic).

Mark Imperial continued: "Although I didn't visit Detroit until 1989, Derrick May showed admiration for my track "Jason's Revenge" which I did in 1986", a fact that made Mark believe he was making "Techno" at its very early days.

"Machines" was very, very influential tune as well. In 1988, he thought they were making "Acid", but it also became a quintessential masterpiece to other kinds of House music that appeared since then...