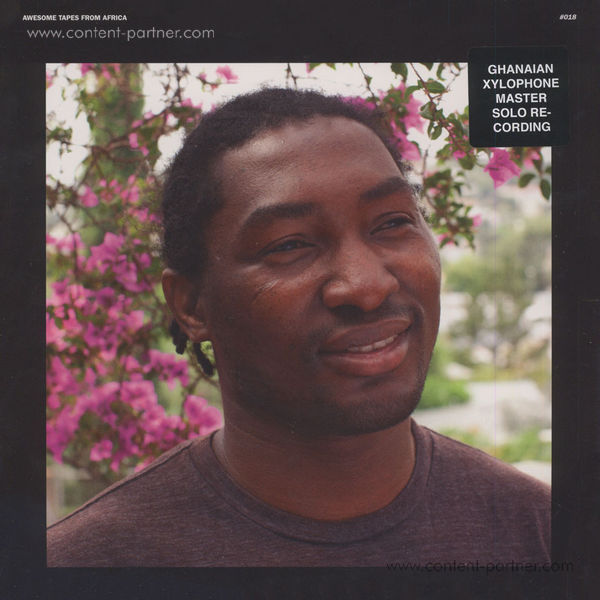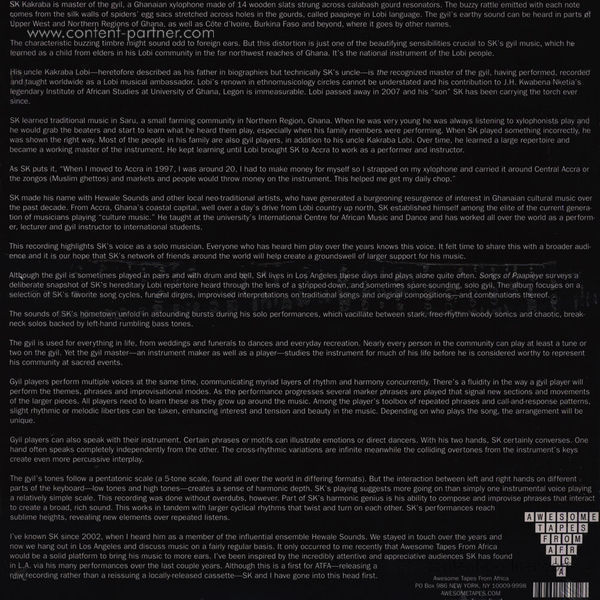 Songs of Paapieye (Awesome Tape From Afr
To order please add to basket and proceed to check out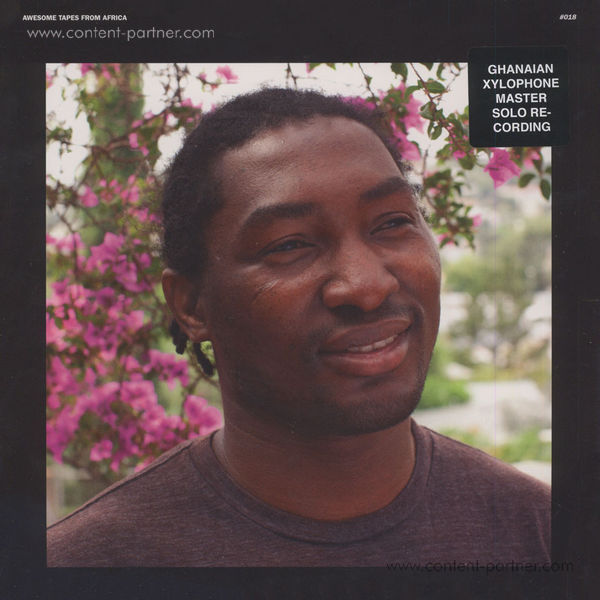 description
Intense solo instrumental music from Upper West, Ghana. Stark yet virtuosic, the sound is woody and dynamic - Check!
SK Kakraba is master of the gyil, a Ghanaian xylophone made of 14 wooden slats strung across calabash gourd resonators. The buzzy rattle emitted with each note comes from the silk walls of spiders' egg sacs stretched across holes in the gourds, called paapieye in his Lobi language.

A first for the label, this is a new recording, completed in San Francisco in a studio operated by Kakraba's close friend Brian Hogan. Completely solo without any overdubs, the recording introduces listeners to the rhythmic complexity and harmonic beauty inherent in the gyil. Songs of Paapieye features the compositions and improvisational modes that have been passed down by generations of hereditary musicians, which Kakraba now performs from his new base in Los Angeles.

Kakraba learned his traditional Lobi music in Saru, a small farming community in Northern Region, Ghana. Over time, he learned a large repertoire and became a working master of the instrument. He kept learning until his uncle Kakraba Lobi, a world-renowned master of the instrument, brought SK to Accra to work as a performer and instructor.

As Kakraba puts it, "When I moved to Accra in 1997, I was around 20, I had to make money for myself so I strapped on my xylophone and carried it around Central Accra or the zongos (Muslim ghettoes) and markets and people would throw money on the instrument. This helped me get my daily chop."

The album focuses on a selection of SK's favorite song cycles, funeral dirges, improvised interpretations on traditional songs and original compositions—and combinations thereof.

ATFA founder Brian Shimkovitz has known SK since 2002, when they met in Ghana. Having been inspired by the incredibly attentive and appreciative audiences SK has found in L.A. via his many performances over the last couple years, they decided to work together on a new recording.