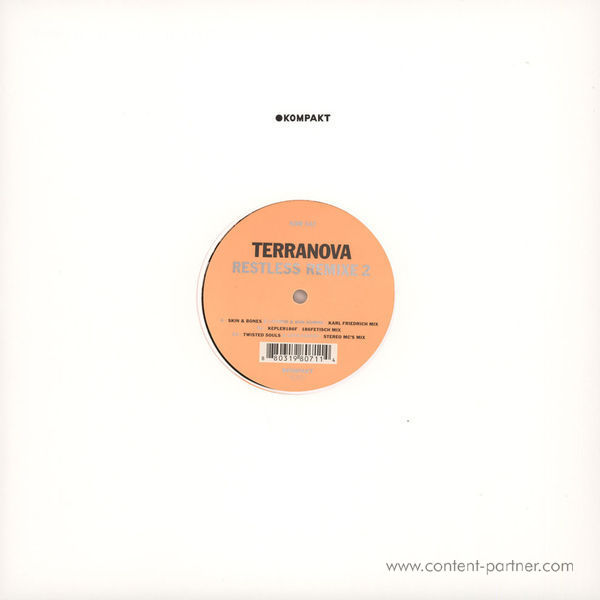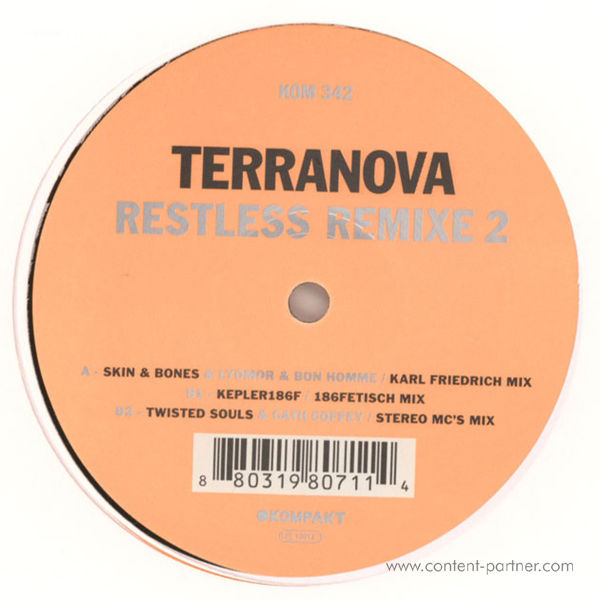 1.
Skin & Bones (Karl Friedrich Mix)
---
2.
Kepler186F (186Fetisch Mix)
---
3.
Twisted Souls (Stereo Mc's Mix)
---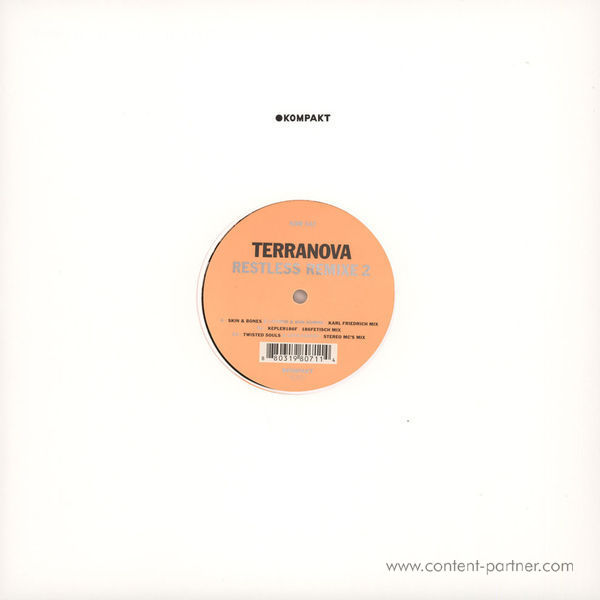 description
With new full-length RESTLESS (KOMPAKT 327 CD 123) under their belt, TERRANOVA already won over crowds and critics in 2015 - but that didn't keep them from reaching out to their extended network of friends to put together a bunch of tightly executed reworks.

RESTLESS REMIXE 2 is the next chapter, following the strong lead of the first batch which included contributions from Danny Daze, Re.You and Adam Port (KOMPAKT 332) - the second instalment features cuts just as fit for service, coming from Terranova's FETISCH himself, veteran allies STEREO MC'S and an upcoming producer from Halle, Germany, KARL FRIEDRICH. The latter throws down the gauntlet, opening with his reimagining of SKIN & BONES - the captivating vocals from LYDMOR & BONHOMME don't show up for a while, but when they do enter the floor, they do so with style, weaving the original's introspective vibe into the fresh fabric of a punchy club remix. FETISCH follows up with his own version of KEPLER186F, appropriately titled 186FETISCH MIX. As founder and co-head of Terranova, he certainly knows where to apply the pressure - resulting in an energetic groover feeding off its thriving percussion and powerful bass injections.

This leaves us with STEREO MC'S revamp of TWISTED SOULS featuring CATH COFFEY: the iconic UK dance crew does right by its former vocalist and turns the source material into a thrilling club drama in its own right, using only a Roland 808, a Bell Delay (one of the earliest samplers) and a Juno - no computers... and exactly the same vintage gear that they were deploying back in London 1990, when they first met Terranova. This mix wraps up a compelling package full melodic breaks, freaky effects and succinct arrangements ready to shake any punter from its tree house.