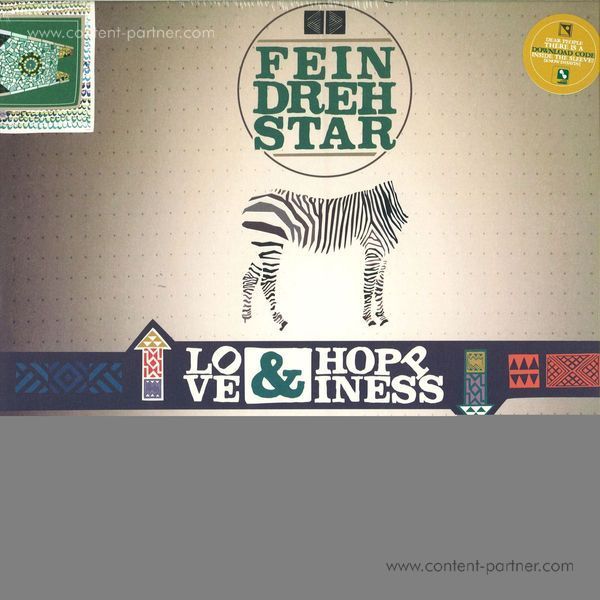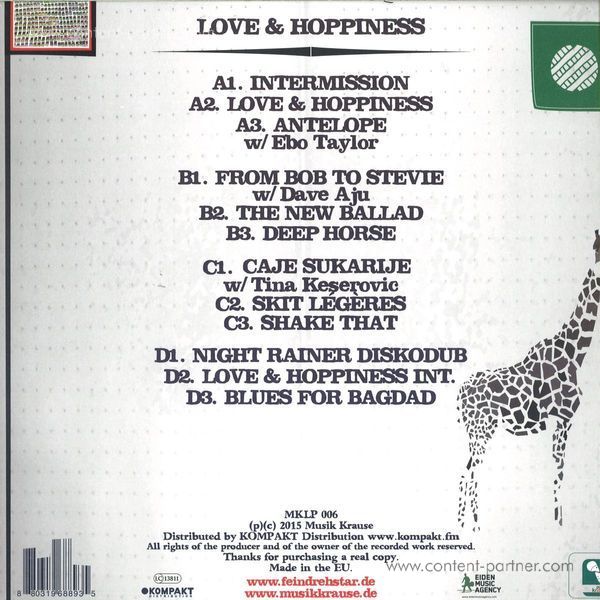 To order please add to basket and proceed to check out
3.
Antelope (With Ebo Taylor)
---
6.
From Bob To Stevie (With Dave Aju)
---
9.
Caje Sukarije (With Tina Keserovic)
---
10.
Night Raider Diskodub
---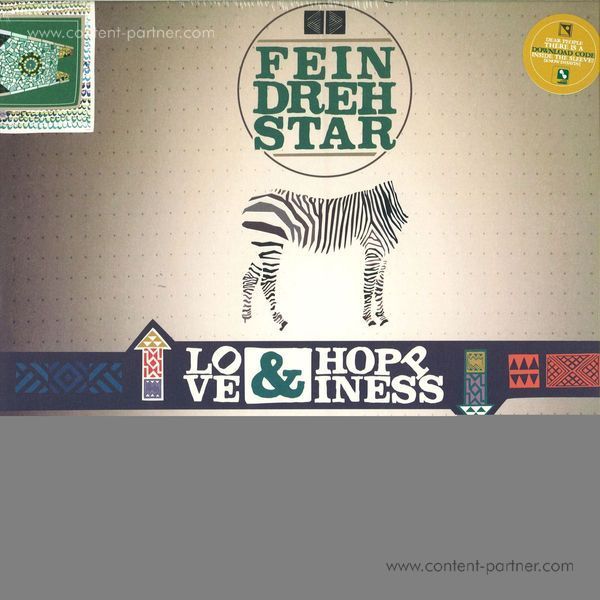 description
Imagine there is a seven-headed rythmic beast with a percussionist, drummer, bassist, keyboardist, two horn players, and a DJ up on the stage embracing the musical totality of the world without any folklore kitsch, its subtlety and urban club grooves crossing various divisions in musical genre. Feindrehstar is standing on the stage.

The studio recordings of this unique Jena-based band have long been known to capture the live energy of their onstage performances. And now Feindrehstar presents their second album named ""Love & Hoppiness - fve years after their brilliant debut ""Vulgarian Knights .

Owing to these vocal tracks with Dave Aju, Ebo Taylor and Tina Keserovic on the microphone, Feindrehstar''s sound continues to develop. Jazz, soul and funk vibes shine through on tracks like ""Antelope , a track featuring the vocals and guitar of legendary Ghanaian musician Ebo Taylor. however in the end, things got mellow and he had so much fun that he recorded guitar tracks with enthusiasm.

The album akes a chiller, newer direction with ""The New Ballad, ""Blues For Bagdad as well as the completely acoustic ballad ""Love & Hoppiness Int. with cello and clarinet, anchoring the album in a captivating calm.Despite the many new directions, the genre defying yet danceable club sound of Feindrehstar remains. ""Love & Hoppiness , ""Deep Horse , ""Shake That und ""Night Rainer Diskodub show once again that after 15 years of rocking dance foors, Feindrehstar''s energy hasn''t diminished. Feindrehstar will ensure that clubs and festivals will be well supplied with their estatic performance into the future.