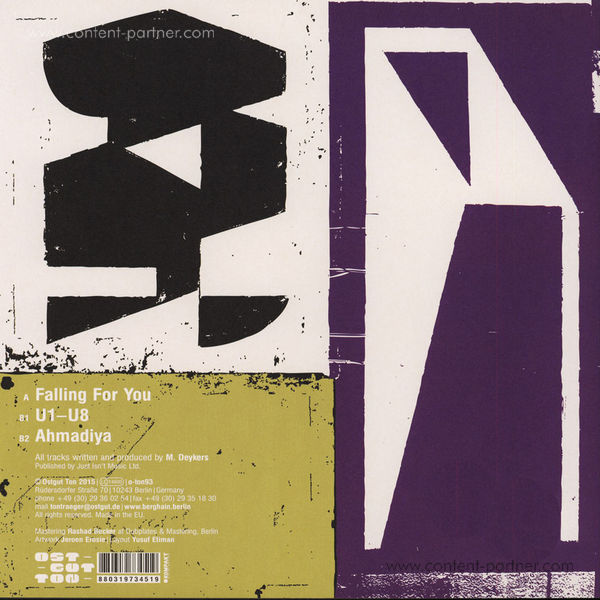 To order please add to basket and proceed to check out
description
Martijn Deijkers is a man of many facets: The Dutch-born now Washington D.C.- based artist and Panorama Bar resident started DJing in the 90s, producing in the noughties, released on labels such as Ninja Tune, Warp Records or Steffi's DollyDubs amongst many others as well as his own 3024 imprint - always with a unique, distinctive sound, nestled somewhere between 2-step, House, Dubstep and Garage.

After having remixed Shed's "Another Wedged Chicken" (2009) and contributed "Miniluv" to Ben Klock's Berghain 04 (2010) we're happy to finally offer a Martyn solo 12" release on Ostgut Ton. Falling For You starts with the almost ten minute-long track of the same title: Opening with a major piano motif and some field recordings from along the road the A-side picks up momentum through its luscious Garage-inspired rhythm, bubbling synth bleeps, organic percussion and more subtle yet stirring piano motifs. Berliners may be familiar with Kreuzberg's 'Kotti' and its converging trains U1 and U8 - let's say it's a fascinating, multiculti yet rough place.

The same goes for "U1-U8" on B1: a slightly darker offering with syncopated melody, hihats, claps and sampled shehnai sounds sitting atop the hollow kick. "Ahmadiya" closes this release with a rather pensive-tempered synth, string elements, beguiling piano strokes and a more break-heavy vibe. Winter may be coming by the time of release, but this record has club-meets-afterhour-meets-summer's-day written all over it.