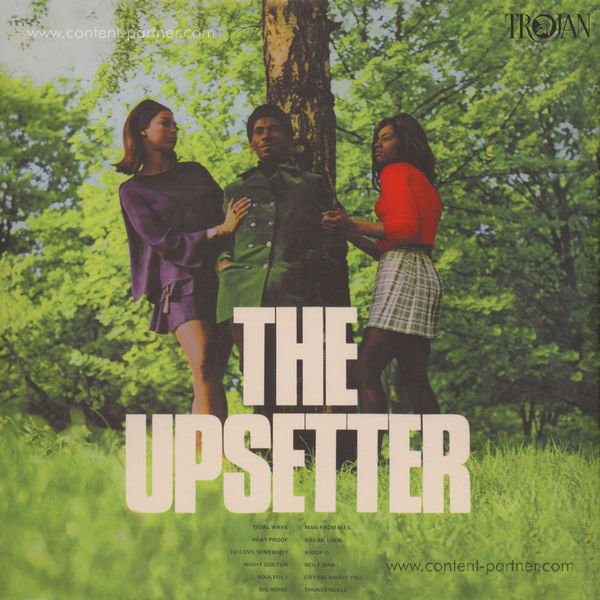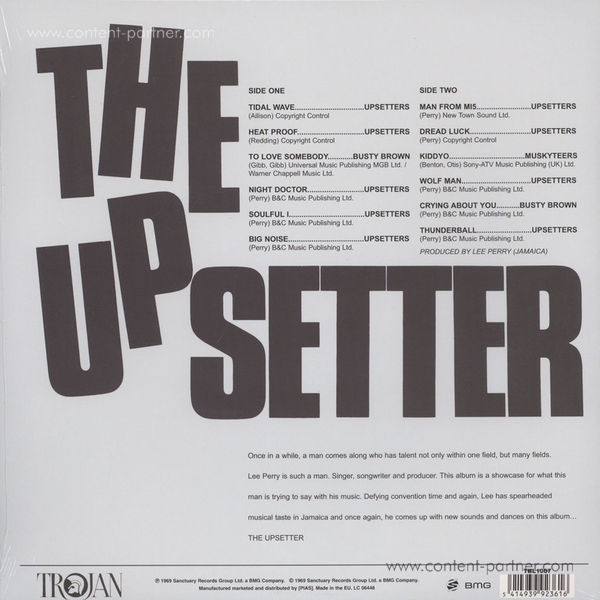 To order please add to basket and proceed to check out
1.
The Upsetters - Tidal Wave
---
2.
The Upsetters - Heat Proof
---
3.
Busty Brown - To Love Somebody
---
4.
The Upsetters - Night Doctor
---
5.
The Upsetters - Soulful I
---
6.
The Upsetters - Big Noise
---
7.
The Upsetters - Man From M.I.5
---
8.
The Upsetters - Dread Luck
---
9.
The Muskyteers - Kiddy-O
---
10.
The Upsetters - Wolfman
---
11.
The Upsetters - Crying About You
---
12.
The Upsetters - Thunderball
---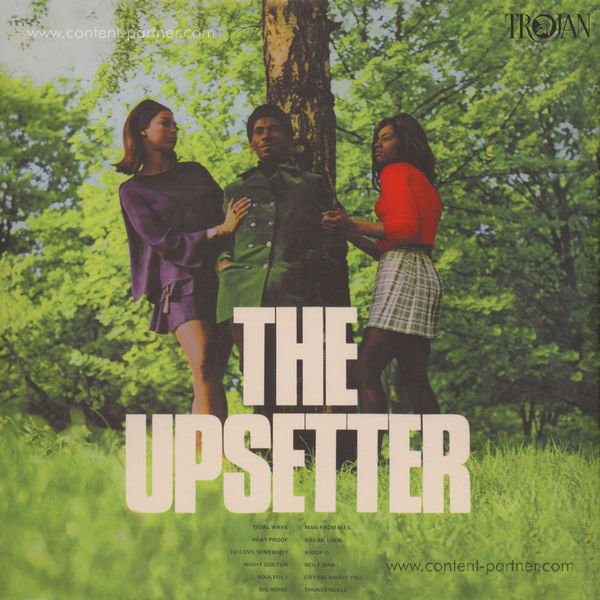 description
Als Lee "Scratch" Perry im Computerspiel "Grand Theft Aufto V" seinen eigenen Radiosender moderiert, wird auch einer neuen Generation bewusst, dass der jamaikanische Produzent unlängst integraler Bestandteil der Popkultur ist. 2011 erschien zudem die filmische Biographie "The Upsetter: The Life and Music of Lee Scratch Perry", bei der der Schauspieler Benicio Del Torro erzählerisch durch Leben und Werk führte. Und selbst die Beastie Boys zählen zu seinen größten Fans. Die nun wiederveröffentlichte 180g LP "The Upsetter" (1969) zeigt Lee Perry ganz am Beginn seiner Karriere, doch selbst in dieser Phase blitzt schon sein exzentrischer Charakter und sein Wille zur Innovation durch. Zudem bereitete er sich mit diesem Album den Weg, um sein eigenes Studio "Black Ark" zu eröffnen. In diesem wird er nur drei Jahre später Künstler wie Bob Marley und Max Romeo produzieren.