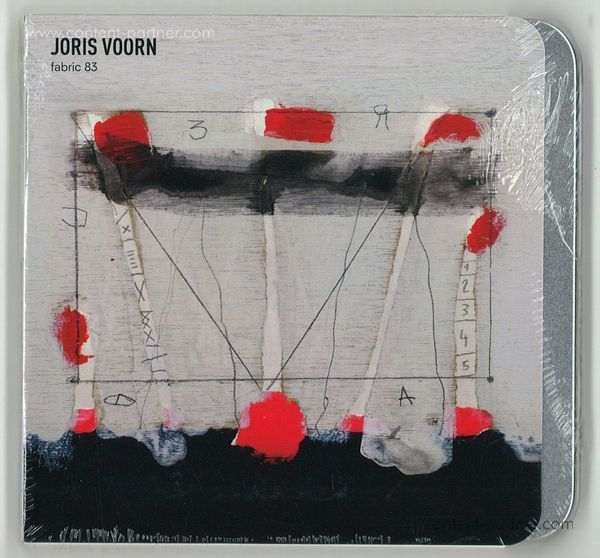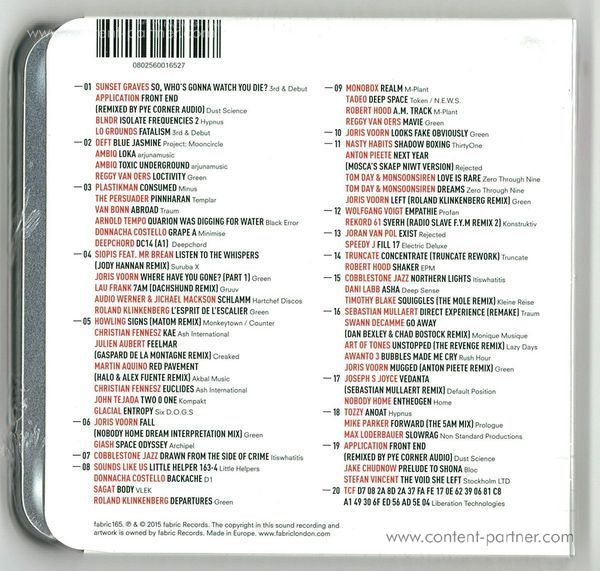 Fabric 83 (CD)
genre:
Electronica / Dance Music
1.
Sunset Graves - So, Who's Gonna Watch You Die
---
4.
Siopis Feat. Mr Brean - Listen To The Whispers (Jody Hannan Remix)
---
5.
Howling - Signs (Matom Remix)
---
6.
Joris Voorn - Fall (Nobody Home Dream Interpretation Mix)
---
7.
Cobblestone Jazz - Drawn From The Side Of Crime
---
8.
Sounds Like Us - Little Helper 163-4
---
10.
Joris Voorn - Looks Fake Obviously
---
11.
Nasty Habits - Shadow Boxing
---
12.
Wolfgang Voigt - Empathie
---
13.
Joran Van Pol - Exist
---
14.
Truncate - Concentrate (Truncate Rework)
---
15.
Cobblestone Jazz - Northern Lights
---
16.
Sebastian Mullaert - Direct Experience (Remake)
---
17.
Joseph S Joyce - Vedanta (Sebastian Mullaert Remix)
---
19.
Application - Front End (Remixed By Pye Corner Audio)
---
20.
Tcf - D7 08 2A 8D 2A 37 Fa Fe 17 0E 62 39 06 81 C8 A1 49 30 6F Ed 56 Ad 5E 04
---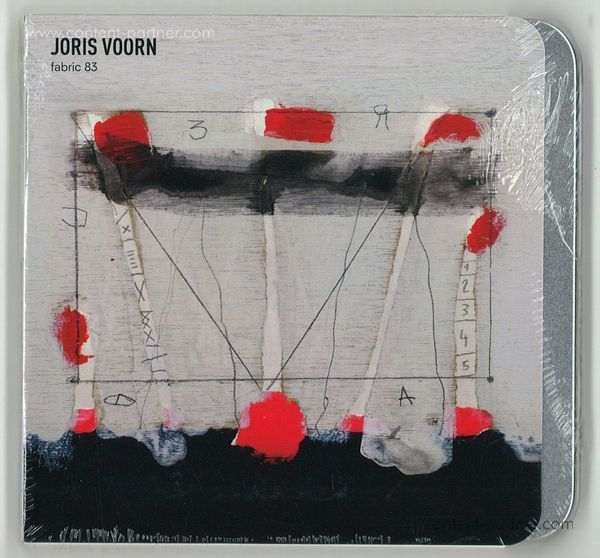 description
Joris Voorn shines brightly as an ever-progressing talent amongst the pantheon of techno''s leading lights. He has forged a sound that''s both identifiable and individual, which shines through on Fabric 83. He weaves a sinuous tapestry from the mere strands of a staggering 65 tracks, cutting, chopping, and editing together ambient cuts, personal favorites, and contemporary melodic techno; it''s impossible to take your ears away from this sumptuous mix for a single second.

Includes tracks by Sunset Graves, Application remixed by Pye Corner Audio, BLNDR, Lo Grounds, Deft, ambiq, Reggy van Oers, Plastikman, The Persuader, Van Bonn, Arnold Tempo, Donnacha Costello, Deepchord, Siopis featuring Mr Brean and remixed by Jody Hannan, Joris Voorn (including tracks remixed by Nobody Home, Roland Klinkenberg, and Anton Pieete), Lau Frank, Dachshund, Audio Werner & Jichael Mackson, Roland Klinkenberg, Howling remixed by Matom, Christian Fennesz, Julien Aubert remixed by Gaspard de la Montagne, Martin Aquino remixed by Halo & Alex Fuente, John Tejada, Glacial, Giash, Cobblestone Jazz, Sounds Like Us, Sagat, Monobox, Tadeo, Robert Hood, Nasty Habits, Anton Pieete remixed by Mosca, Tom Day & Monsoonsiren, Wolfgang Voigt, Rekord 61 remixed by Radio Slave, Joran van Pol, Speedy J, Truncate, Dani Labb, Timothy Blake remixed by The Mole, Sebastian Mullaert, Swann Decamme remixed by Dan Bexley & Chad Bostock, Art of Tones remixed by The Revenge, Awanto 3, Joseph S Joyce remixed by Sebastian Mullaert, Nobody Home, Tozzy, Mike Parker, Max Loderbauer, Jake Chudnow, Stefan Vincent, and TCF. Packaged in bespoke slipcase containing die-embossed tin.