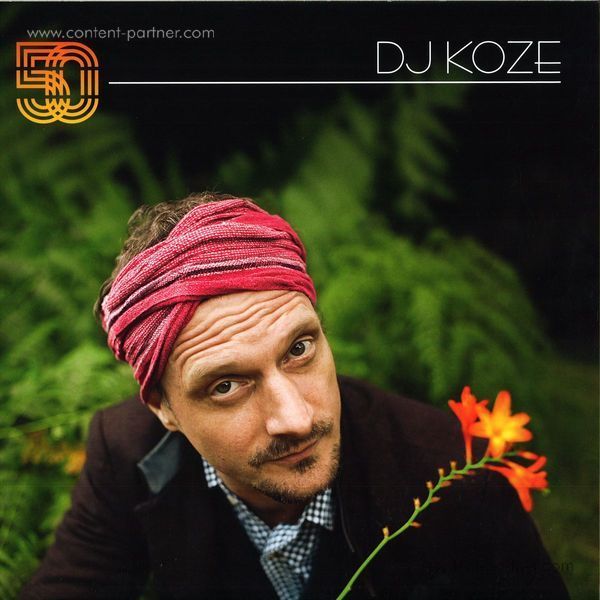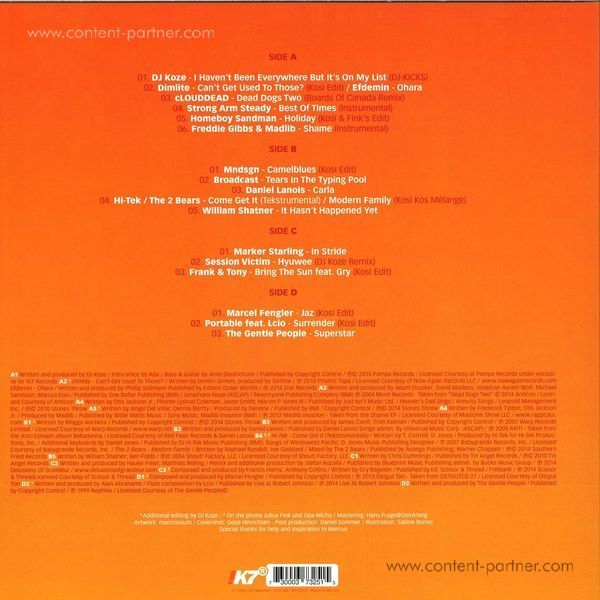 1.
DJ Koze - I Haven't Been Everywhere But It's On My List (DJ Kicks)
---
2.
Dimlite - Can't Get Used To Those (Kosi Edit) / Efdemin - Ohara
---
3.
Clouddead - Dead Dogs Two (Boards Of Canada Remix)
---
4.
Strong Arm Steady - Best Of Times (Instrumental)
---
5.
Homeboy Sandman - Holiday (Kosi & Fink's Edit)
---
6.
Freddie Gibbs & Madlib - Shame (Instrumental)
---
7.
Mndsgn - Camelblues (Kosi Edit)
---
8.
Broadcast - Tears In The Typing Pool
---
10.
Hi-Tek / The 2 Bears - Come Get It (Tekstrumental) / Modern Amily (Kosi Kos Mélange)
---
11.
William Shatner - It Hasn't Happened Yet
---
12.
Marker Starling - In Stride
---
13.
Session Victim - Hyuwee (DJ Koze Remix)
---
14.
Frank & Tony - Bring The Sun Feat. Gry (Kosi Edit)
---
15.
Marcel Fengler - Jaz (Kosi Edit)
---
16.
Portable feat. Lcio - Surrender (Kosi Edit)
---
17.
The Gentle People - Superstar
---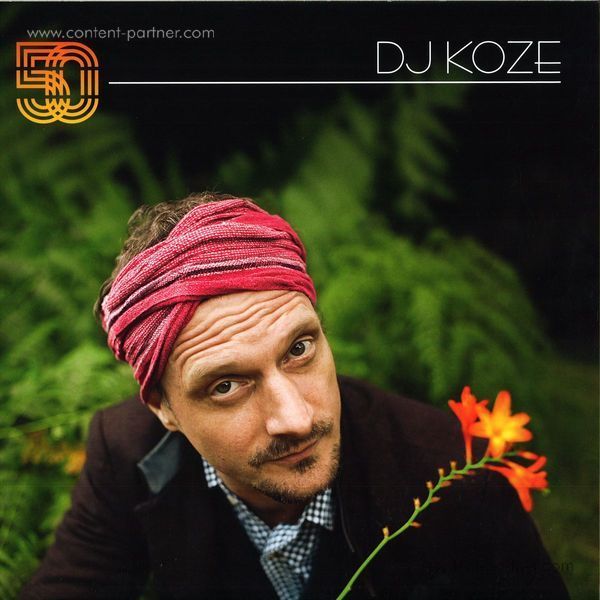 description
DJ Koze - with his friendly and sometimes slightly melancholic take on the world - is one of the greatest auteurs of club music today, and one of the few internationally active DJs who dares to make music that has relevance beyond the dance floor. During the 70-minute journey on his DJ Kicks - the 50th edition - Kosi
Kos manages to establish a uniform color even though genres alternate in a way that is rarely heard on a mix CD: the stripped down hip hop of Madlib, brutalist Berghain techno, timeless songwriting, floating indie-pop and outlier numbers that oscillate between absurdity andmelancholy. Koze's disregard for the stylistic yoke presents him with an immense challenge. Hence, almost all the tracks are more or less edited, and one is fully rhymed (Session Victim: Hyuwee).Koze rambles on here himself: "I didn't want to kick around ophisticated knowledge, but rather try and weave together some good gems that would make sense to anyone, even people who aren't necessarily music nerds". But this is blabbing that you can count on, also because he approaches the term "mix" from a different angle and doesn't even try to make something fit that doesn't fit: "During the day, I don't need to hear anything that's mixed on the beat. I put the focus on making sure that it works harmoniously - the idea is more to create the impression of a radio show, like people such as John Peel did so uniquely. There is a giant cosmos of music and it runs through my filter".