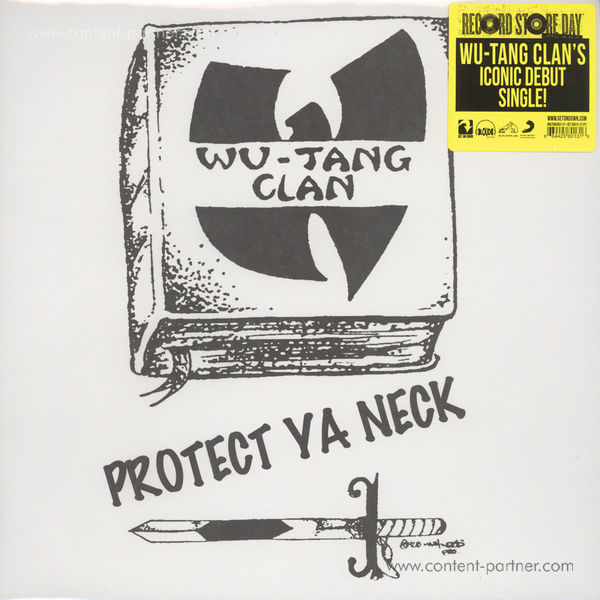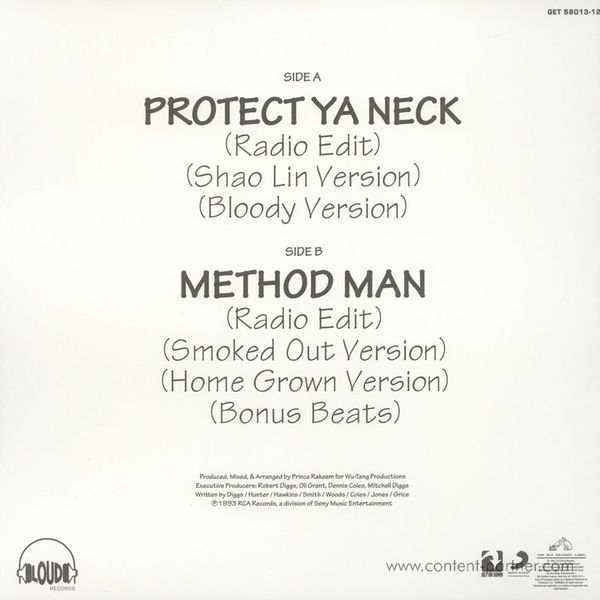 Protect Ya Neck (RSD 2015 colored!)
To order please add to basket and proceed to check out
1.
Protect Ya Neck (radio edit)
---
2.
Protect Ya Neck (Shao Lin version)
---
3.
Protect Ya Neck (Bloody version)
---
4.
Method Man (radio edit)
---
5.
Method Man (Smoked Out version)
---
6.
Method Man (Home Grown version)
---
7.
Method Man (bonus beats)
---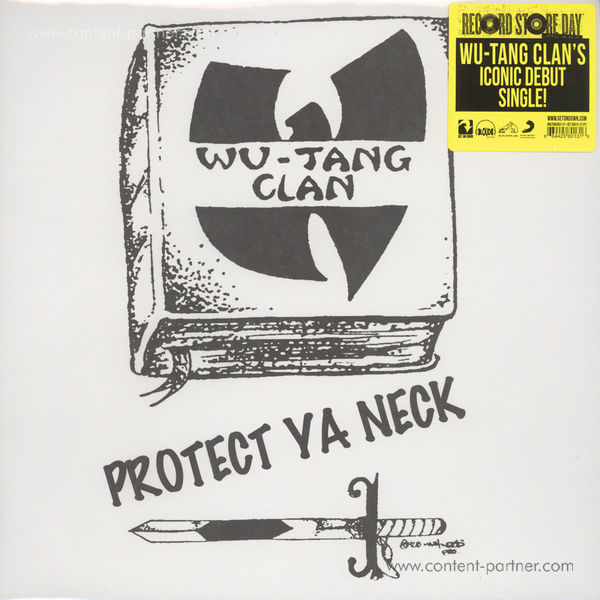 description
"Wu-Tang Clan's first ever 12" presented for Record Store Day 2015 in a split yellow & black colored vinyl pressing. In 1993, an unsuspecting – and some might say dozing – hip-hop world was bumrushed by a force that would dominate its consciousness for the rest of the decade: the nine-member Wu-Tang Clan. This is the song that started it all.

Originally self-released on cassette and vinyl (with producer and group patriarch The RZA's Staten Island home address on the label), the song blew up in a way that has rarely been equaled in the hip-hop world. The grass roots groundswell it created is part of what built the Wu-Tang legend and kept it strong.

The song, beat-wise, is a driving, dusty musical assault. That description holds true lyrically as well, thanks to eight out of nine group members attacking the mic (Masta Killa was absent), one by one – each showing their unique flow and methodic madness, from GZA's even keel to Ol' Dirty Bastard's manic train of thought. Within months of first exploding on college radio, the song was dominating mainstream hip-hop shows around the world.

Eventually picked up by Loud Records, it remains one of the most explosive hip-hop posse cuts of all time, full of intelligence, righteous indignation (at record labels who had dropped and dissed various members of the crew) and raw power.

This limited edition (3,000) Record Store Day 12-Inch is pressed on split yellow and black vinyl for the first time ever, with a reproduction of the original cover art and a plastic Get On Down-branded outer sleeve."