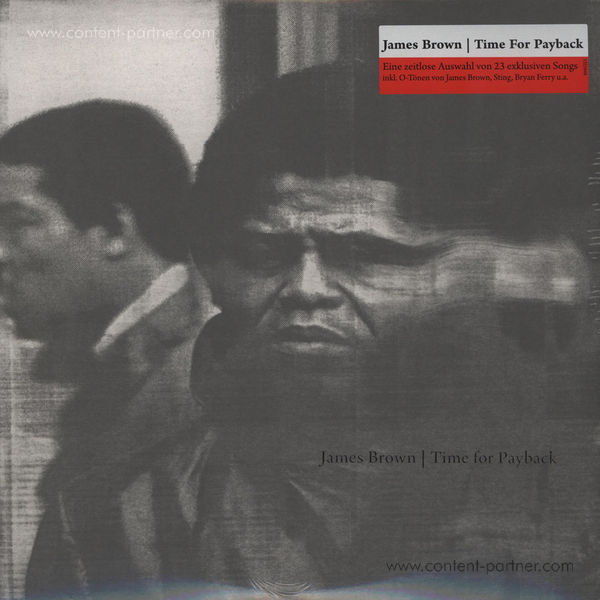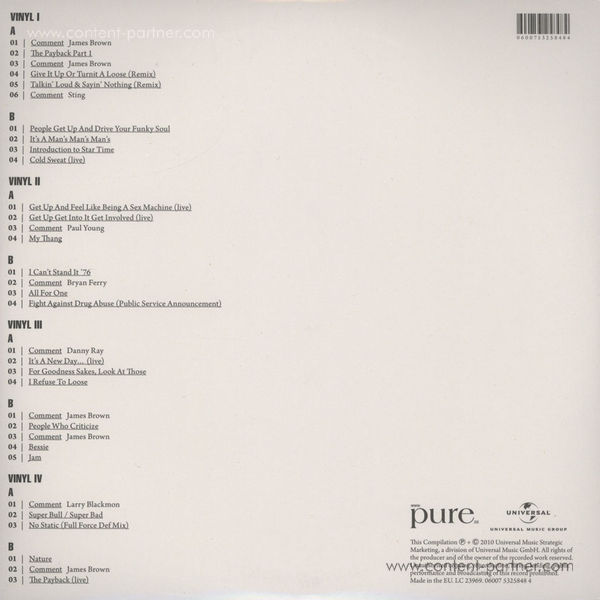 Time For Payback (180g Vinyl!)
To order please add to basket and proceed to check out
1.
Comment (I Am James Brown)
---
4.
Give It Up Or Turnit A Loose (Remix)
---
5.
Talkin Loud And Sayin Nothing (Remix)
---
6.
Comment (Invented Soul Music) (Sting)
---
7.
People Get Up And Drive Your Funky Soul
---
8.
It's A Man's, Man's, Man's World
---
9.
Introduction To Startime (Frankie Crocker With Sad Sam)
---
11.
Get Up And Feel Like Being A Sex Machine (Live)
---
12.
Get Up, Get Into It, Get Involved (Live)
---
13.
Comment (One Of The Most Magnetic...) (Paul Young)
---
16.
Comment (The Hardest Working...) (Bryan Ferry)
---
18.
Fight Against Drug Abuse (Public Service Announcement)
---
19.
Comment (Mc - My Name Is?) (Danny Ray)
---
20.
It's A New Day (Live)
---
21.
For Goodness Sakes, Look At Those Cakes
---
23.
Comment (I Don't Wanna Be?) (James Brown)
---
25.
Comment (Singing Is) (James Brown)
---
28.
Comment (Big Influence...) (Larry Blackmon)
---
29.
Super Bull / Super Bad
---
30.
No Static (Full Force Def Mix)
---
32.
Comment (I'm Colourblind) (James Brown)
---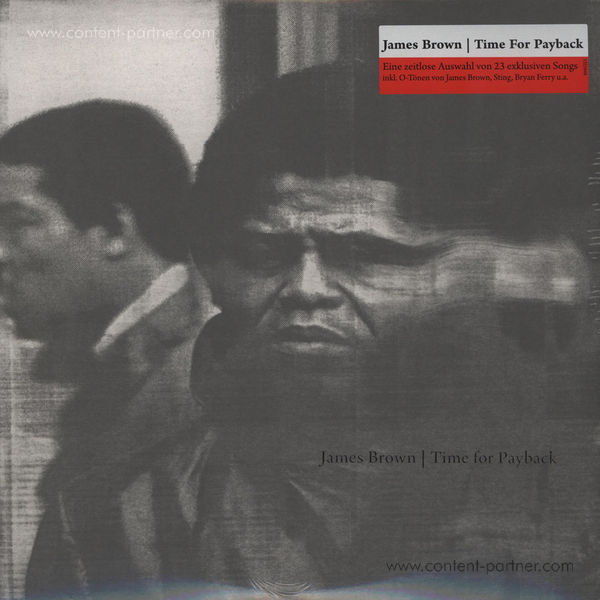 description
"Time For Payback" ist eine James Brown Kompilation, die es in sich hat. Mit vier LPs hat sie nicht nur einen enormen Umfang, sie hält auch einige Schätze bereit. Bisher in Deutschland unveröffentlichte Songs finden sich, sowie Live- und Remix-Versionen seiner größten Hits. Fred Kogel (Medienmanager, Fernsehproduzent und Moderator), der die Kompilation zusammenstellte, wollte nicht nur die der Allgemeinheit bekannte Seite des Godfather of Soul einfangen, sein Ziel war es mit dieser Auswahl ein möglichst breites Spektrum der rund ein halbes Jahrhundert umspannenden Karriere James Browns einzufangen.

Durch zwischengeschaltete Audiokommentare (u.a. O-Töne James Browns) bekommt "Time For Payback" einen gewissen Dokumentations-Charakter. Abgerundet wird das ganze von den Liner Notes Kogels. Eine wahre Schatztruhe an Raritäten, die nicht nur für Fans eines der einflussreichsten Musikern des 20. Jahrhunderts interessant ist.