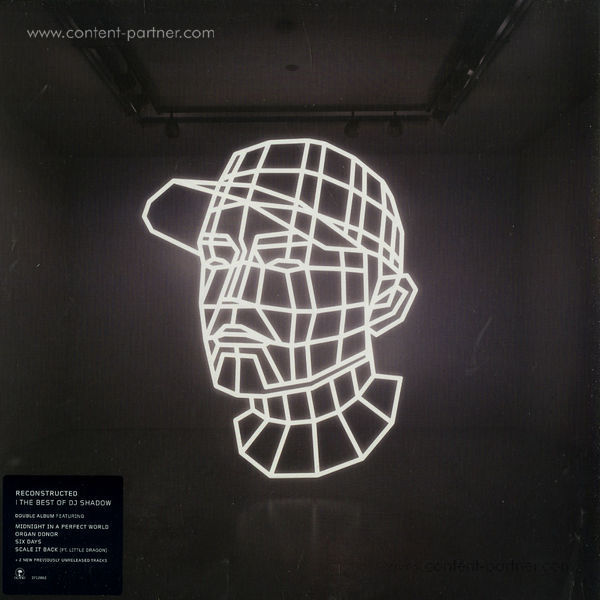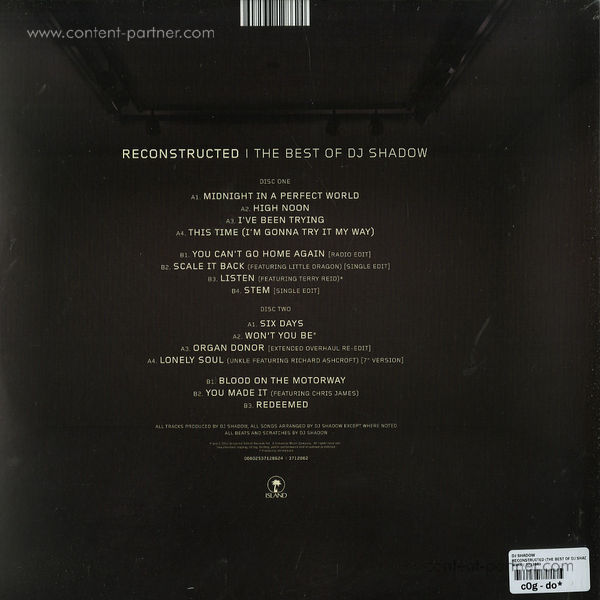 1.
Midnight In A Perfect World
---
4.
This Time (I'm Gonna Try It My Way)
---
5.
You Can't Go Home Again
---
6.
Scale It Back (Featuring Little Dragon)
---
7.
Listen (Featuring Terry Reid)
---
12.
Lonely Soul' (Featuring Richard Ashcroft)
---
13.
You Made It' (Featuring Chris James)
---
15.
Dark Days' (Main Theme)
---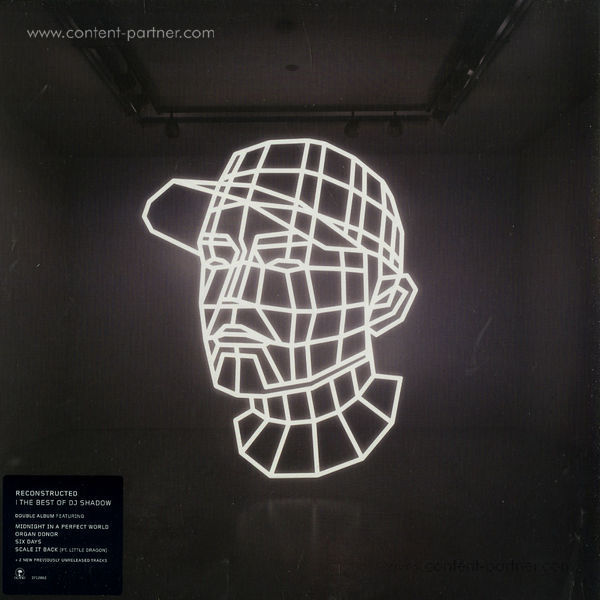 description
You do not own any DJ Shadow record and want to own all the hits? Buy this one!

The problem with compiling experimental, instrumental hip-hop producer DJ Shadow is that his two-decade-plus career has yielded a mere five albums, and one of those is 1996's Endtroducing..., a mammothly influential release, the first album that was comprised entirely of samples, and one that's beloved beyond belief.

This one-disc compilation deals with its Sgt Pepper's-sized, must-have classic status by grabbing two important cuts off the album, putting the aptly titled, nocturnal dream "Midnight in a Perfect World" right up front and dropping the single edit of the serene "Stem" between a new cut (a jazzy, life-journey called "Listen" with the full-bodied, bluesy voice of Terry Reid) and the best bit off his Private Press (2002) album (the Procol Harum-meets-David Axelrod-ish "Six Days"). Not only are they the best reminders for fans, but that leaves plenty of music for newcomers to discover once Endtroducing… is acquired; but where Reconstructed really wins is with the rest, rounding up the best bits that more casual fans might have missed (the moody and refined drifter "Redeemed" off 2011's The Less You Know, The Better, or 2006's The Outsider being represented by the Bill Withers-bright blast of soul called "This Time (I'm Gonna Try It My Way)") along with some rare cuts that reach out of the usual discography (the funky introvert-dubbed "Lonely Soul" with Richard Ashcroft is actually from the trip-hop supergroup U.N.K.L.E., of which Shadow was a once a member).

Exiting with the subterranean and special "Dark Days" from the film of the same name earns the comp some extra credit, but the boom-bap-meets-Duane Eddy track does bring up an arguable point: that Reconstructed favors the deep, crafted, and cool side of Shadow's output over his more outgoing and heavily rap-based work.