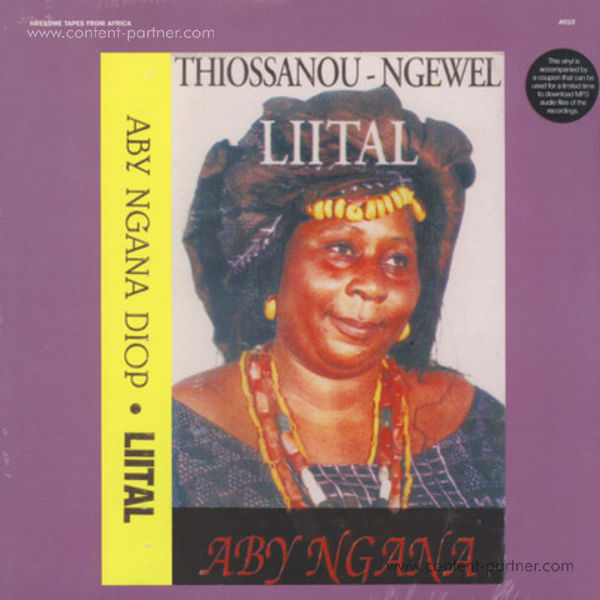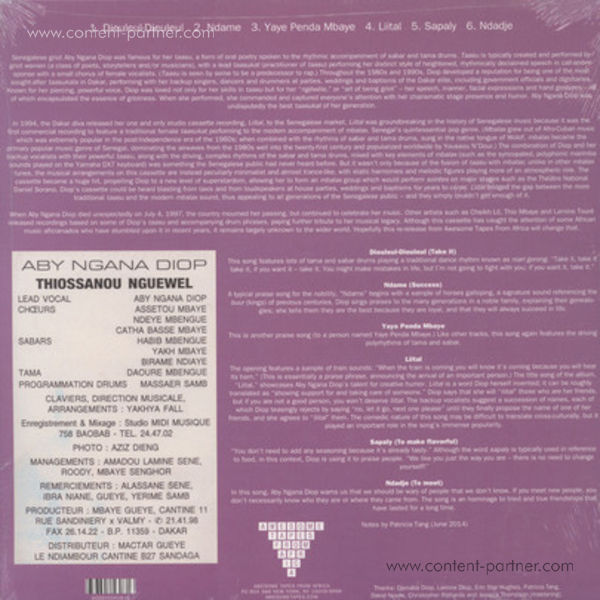 To order please add to basket and proceed to check out
1.
dieuleul-dieuleul (take it)
---
5.
sapaly (to make flavorful)
---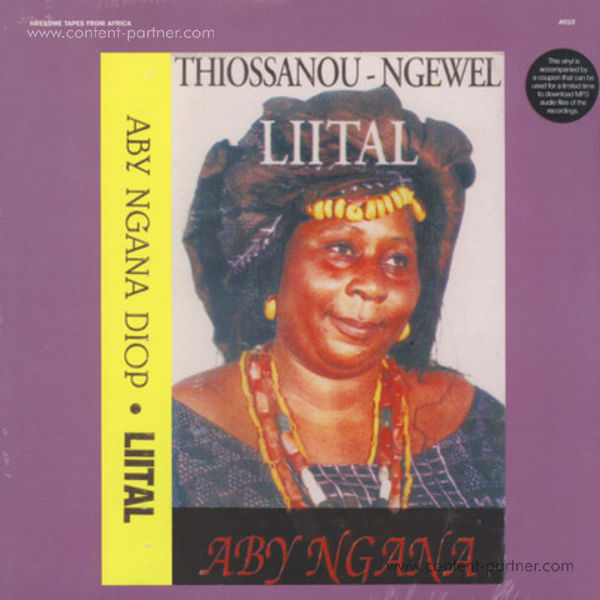 description
Senegalese griot Aby Ngana Diop was famous for her taasu, a form of oral poetry spoken to the rhythmic accompaniment of sabar and tama drums. Taasu is typically created and performed by griot women (a class of poets, storytellers and/or musicians), with a lead taasukat (practitioner of taasu) performing her distinct style of heightened, rhythmically declaimed speech in call-and-response with a small chorus of female vocalists. (Taasu is seen by some to be a predecessor to rap.) Throughout the 1980s and 1990s, Diop developed a reputation for being one of the most sought-after taasukats in Dakar, performing with her backup singers, dancers and drummers at parties, weddings and baptisms of the Dakar elite, including government officials and dignitaries.

by Ngana Diop was undisputedly the best taasukat of her generation.! In 1994, the Dakar diva released her one and only studio cassette recording, Liital, to the Senegalese market. Liital was groundbreaking in the history of Senegalese music because it was the first commercial recording to feature a traditional female taasukat performing to the modern accompaniment of mbalax, Senegal's quintessential pop genre. The combination of Diop and her backup vocalists with their powerful taasu, along with the driving, complex rhythms of the sabar and tama drums, mixed with key elements of mbalax (such as the syncopated, polyphonic marimba sounds played on the Yamaha DX7 keyboard) was something the Senegalese public had never heard before. But it wasn't only because of the fusion of taasu with mbalax; unlike in other mbalax tunes, the musical arrangements on this cassette are instead peculiarly minimalist and almost trance-like, with static harmonies and melodic figures playing more of an atmospheric role.