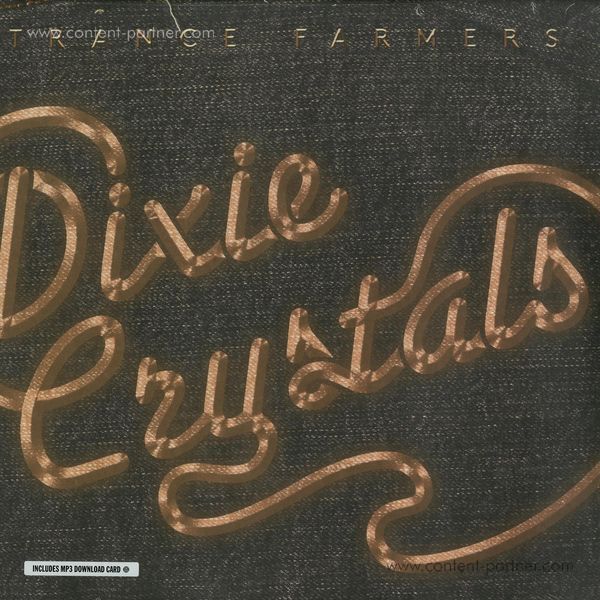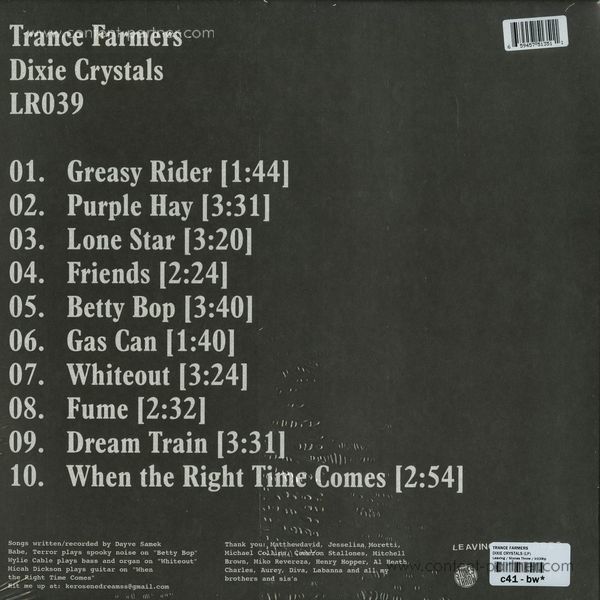 To order please add to basket and proceed to check out
10.
when the right time comes
---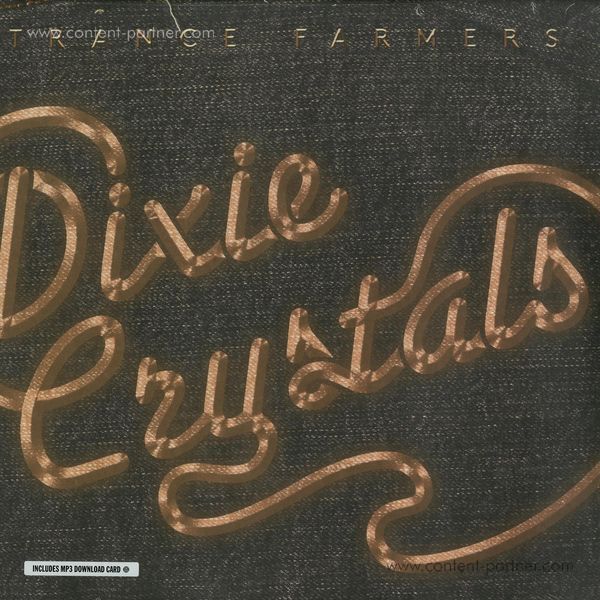 description
"Leaving Records and Stones Throw Records jointly present the debut album of Trance Farmers. 'Dixie Crystals' is a sashay through the unique musical mind of time-travelling bluesman Dayve Samek -- a soulful, exhilarating collection of tunes. Recorded over several years and across Los Angeles, 'Dixie Crystals' draws from Samek's experiences on the shores of Venice Beach to the majestic foothills of Altadena. An omnipresent haze hangs over the whole affair, choking twinkling tones like so much carbon monoxide. Songs range from warped ballads of friendship and love to inhalantfuelled rockabilly joyrides.
Over the course of ten tracks, a drifting young hayseed finds himself temporarily settled in a sprawling but claustrophobic megalopolis that feels
more like a decrepit roadside attraction on the information superhighway. Sweaty garage ballads brush shoulders with drifter anthems and gasoline-drenched doo-wop. Before the album's release, Samek will have already sauntered on down the road, leaving the West Coast a distant, smudged memory. 'Dixie Crystals' can then be considered a memento, its songs fragments of getting lost, growing up and finally hitting the road.

Sales Points
• Psychedelic folk debut album by Trance Farmers

• Follow-up to the 'Dixie Caps' EP, which FACT Magazine described as ""psych-folk gems... Trance Farmers are churning up new ground.""

• A song by Trance Farmers was featured on the successful Stones Throw and Leaving Records compilation Dual Form

• Targeted in-house PR in UK and France

• Recommended for fans of Grumbling Fur, Connan Mockasin and Hype Williams

• Released on Leaving Records, the cult LA experimental label whose successes include records by Julia Holter, Sun Araw, Ras G and Samiyam"