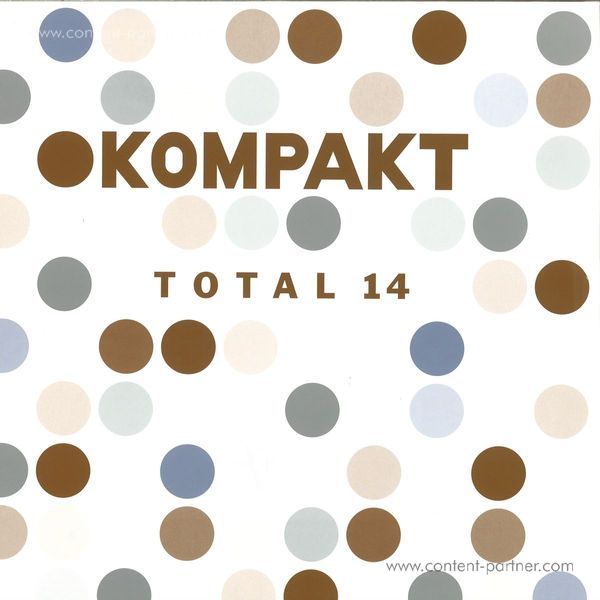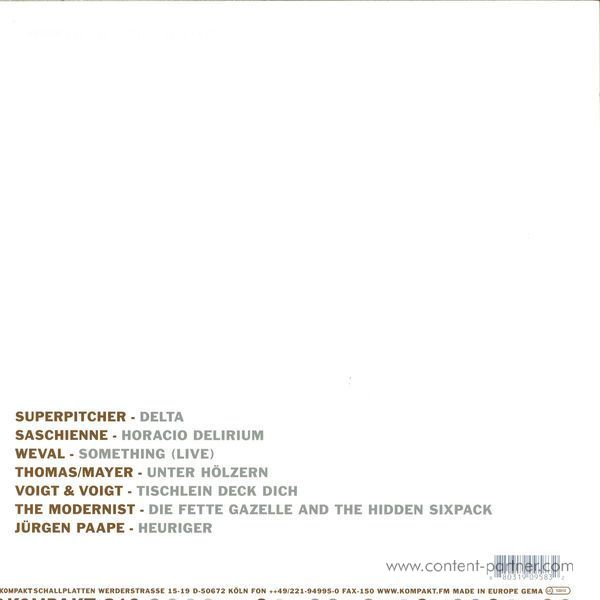 To order please add to basket and proceed to check out
2.
Saschienne - Horacio Delirium
---
3.
Weval - Something (Live)
---
4.
Thomas Mayer - Unter Holzern
---
5.
Voigt & Voigt - Tischlein Deck Dich
---
6.
The Modernist - Die Fette Gazelle And The Hidden Sixpack
---
7.
Jurgen Paape - Heuriger
---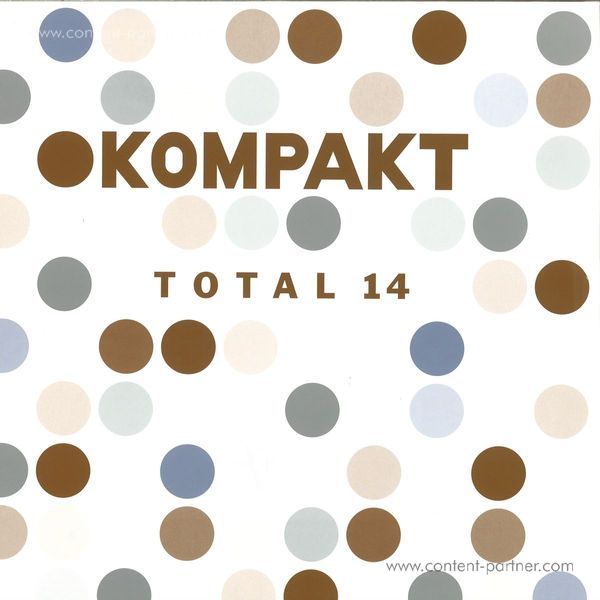 description
Mit TOTAL 14 kehrt unsere überaus beliebte Compilation-Serie nach einer kreativen Pause im letzten Jahr wiedererstarkt ins Rampenlicht zurück; ein Bruch mit der Routine, der nun in einer der besten Ausgaben der Serie resultiert. Sowohl versierte Produktionsveteranen wie hochtalentierte Neuzugänge wurden für einen umfassenden Überblick der letzten zwei Labeljahre ausgewählt, inklusive großartigen Materials von Künstlern wie etwa DAUWD, KÖLSCH, BLOND:ISH, MICHAEL MAYER oder THE FIELD - doch wäre es nicht TOTAL ohne das exklusive Zeug, weshalb wir gerne noch eine ordentliche Portion brandneuer Tracks von SUPERPITCHER, SASCHIENNE, WEVAL, THOMAS/MAYER, VOIGT & VOIGT, THE MODERNIST und JÜRGEN PAAPE dazu packen.

Wie jede Compilation muß auch unsere Auswahl für TOTAL 14 den anspruchsvollen Kriterien eines perfekten Mixtapes genügen - man braucht ein paar Knaller dabei, sollte nicht die Atmosphäre vergessen und auch den Erzählbogen immer im Blick behalten... die Formel ist nicht unbedingt kompliziert, doch glauben wir da etwas besonders Erwähnenswertes in der Hand zu halten, dank eines überaus starken Line-Ups, das die Bestseller und persönlichen Favoriten der jüngsten Labelgeschichte vereint. Was jedoch auffällt: daß ein Pool von so distinkten Künstlern wie COMA, THOMAS FEHLMANN, SEBASTIEN BOUCHET, DJ TENNIS oder GUSGUS die Harmonie in der Vielfalt findet, wie etwa bei MACEO PLEXs glamourösem Prime-Time-Stomper CONJURE SUPERSTAR, der auf natürlichste Weise in die zarte Nostalgie von WEVALs SOMETHING mündet.