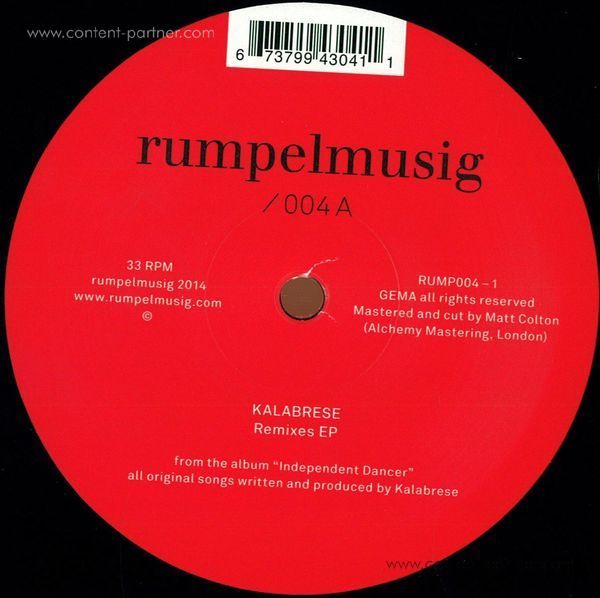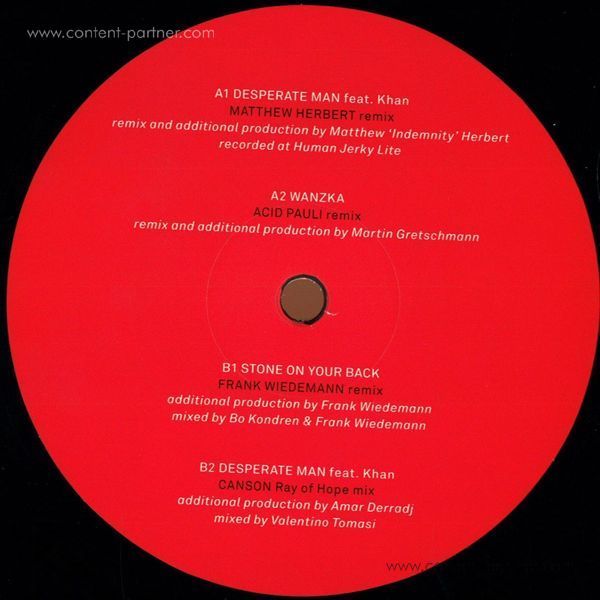 Remixes Ep (Frank Wiedmann, Acid Pauli)
genre:
Electro / Electronic
To order please add to basket and proceed to check out
1.
desperate man (feat khan - matthew herbert remix)
---
2.
wanzka (acid pauli remix)
---
3.
stone on your back (frank wiedmann remix)
---
4.
desperate man (feat khan - canson remix)
---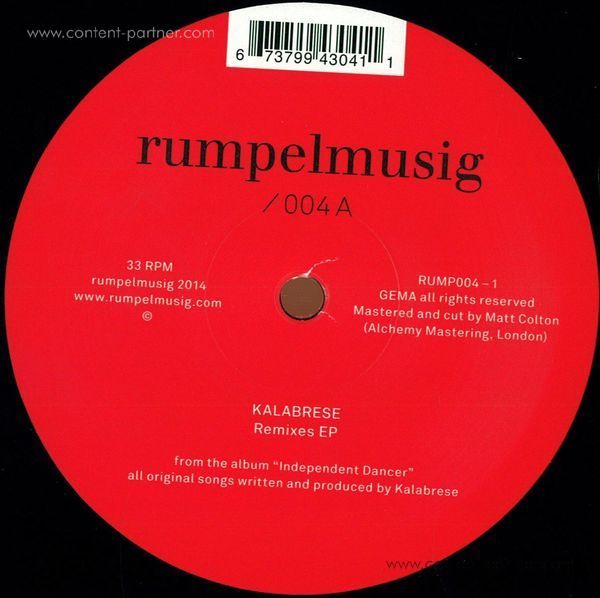 description
In may 2013 the long-awaited second album by zurich resident production master kalabrese was released and inspired again the dance community. an unique musical piece made for independent sensitive dancers and listeners. now, a remix ep is released with re-interpretations from the album. and the handpicked producers got down to work just as respectful and musically passionate, all appreciating the "rumpel magic".

matthew 'indemnity' herbert runs against the storm with his "desperate man" version and sparks a rolling fire of distortion synthesizers and blazing pads and voices. a peak-time bomb becoming also a whisky song à la tom waits as later the night gets.

martin gretschmann aka acid pauli remains slenderly, takes away the euphoria of "wanzka"'s afro and rotates about some synthesizer-modules and a groove as dry as dust, the afterhour isn´t far away...

âme's frank wiedemann masterly unrolls the dub and focusses on the solid choir of "stone on your back". a strong massive track, fairly arousing, but also hugging the dancefloor and pointing to everybody's hearts.

a canson remix completes the ep. the producer from zurich helped himself from kalabrese's huge treasury filled with dozens of files and put a backing voice in the center of the hypnotic groove, he treats the harmonies oft he original very carefully.

a strong and independent remix ep that shows again, how full of potential kalabrese's songs are and how incredibly relaxed the remixers dealt with them.