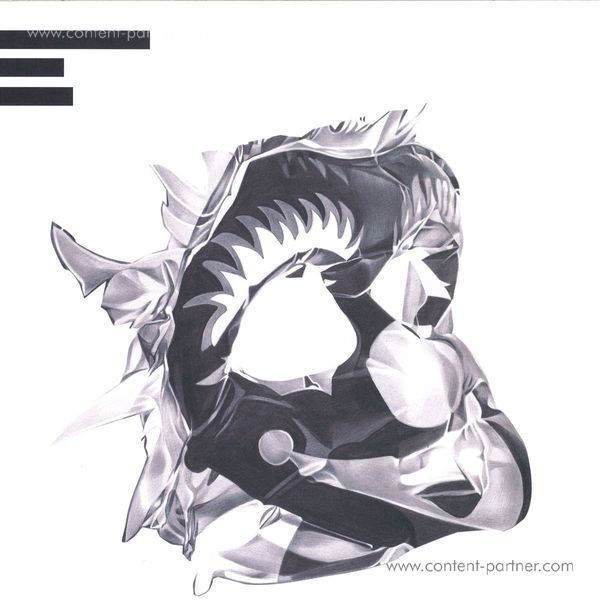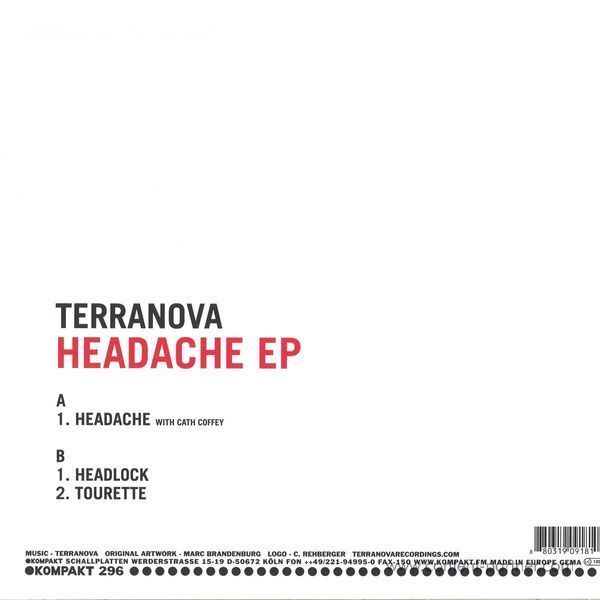 1.
headache (with cath coffey)
---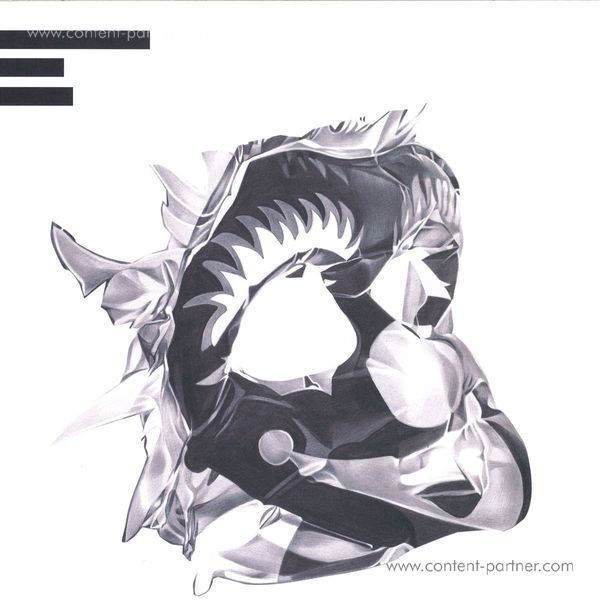 description
TERRANOVA returns to the fore with the HEADACHE EP, another impressive assortment of floor-ready house weaponry - after the sublime sophistication of the PAINKILLER EP (KOMPAKT 262) and its accompanying remixes (FM X/PAIN 001), the new material shoves the pendulum back into more rugged club territory, showcasing the sort of sonic urgency and rawness the legendary project has become known for in the first place.

As missing links between the dystopian pop of TERRANOVA's turn-of-the-century work and the slick kinetic drama of their current incarnation on Kompakt, the three cuts of the HEADACHE EP congenially continue the multi-layered, nifty thrust of 2012's house nouveau epic HOTEL AMOUR (KOMPAKT 248 CD 95), but also manage to evoke the wonderstruck immediacy of an act burning through its first speakers. This becomes particularly manifest with the deployment of CATH COFFEY as vocalist for title track HEADACHE (also a primer for TERRANOVA's upcoming full-length). A member of iconic British rap outfit Stereo MCs in the early 90s and collaborator of Tricky, the singer was featured on TERRANOVA's initial outings and is a well-established presence in their early work. On the new 12", she reintroduces her unique brand of battle-hardened, deadpan soulfulness to the searing funk of the reinvigorated project.

HEADACHE, a cover of a song from Birmingham's iconic and controversial postpunk outfit The Au Pairs, as well as its instrumental sequel HEADLOCK are both fuelled by the propulsive beats and upscale hooks we've grown to expect from TERRANOVA, but there seems to be something else at work, too - a somewhat darker undercurrent that may or may not be part of the actual arrangement. In any case, this adds much-needed depth to today's dance floors, providing them with a riveting soundtrack for the most intense of prime times.