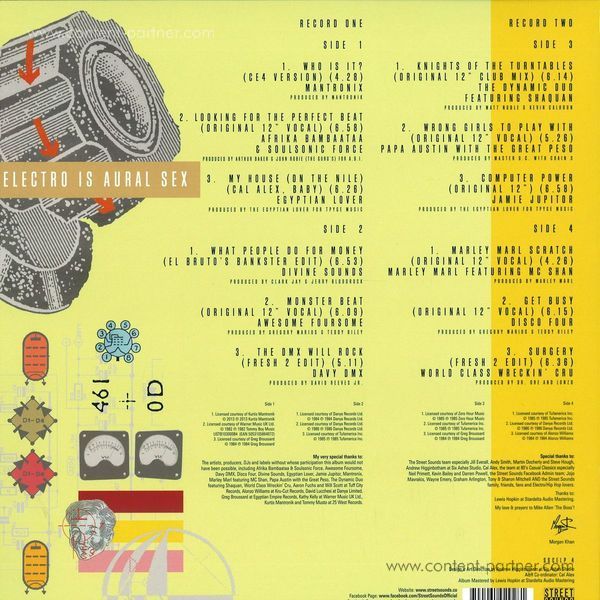 crucial electro 4
genre:
Electro / Electronic
To order please add to basket and proceed to check out
1.
Who Is It (Ce4 Version) (4.28) Mantronix
---
2.
Looking For The Perfect Beat (Original 12' Vocal) (6.58) Afrika Bambaataa & Soulsonic Force
---
3.
My House (On The Nile) (Cal Alex, Baby) (6.26) Egyptian Lover
---
4.
What People Do For Money (El Bruto's Bankster Edit) (6.53) Divine Sounds
---
5.
Monster Beat (Original 12' Vocal) (6.09) Awesome Foursome
---
6.
The Dmx Will Rock (Fresh 2 Edit) (5.11) Davy Dmx
---
7.
Knights Of The Turntables (Original 12' Club Mix) (6.14) The Dynamic Duo Featuring Shaquan
---
8.
Wrong Girls To Play With (Original 12' Vocal) (5.26) Papa Austin With The Great Peso
---
9.
Computer Power (Original 12') (6.58) Jamie Jupitor
---
10.
Marley Marl Scratch (Original 12' Vocal) (4.26) Marley Marl Featuring Mc Shan
---
11.
Get Busy (Original 12' Vocal) (6.15) Disco Four
---
12.
Surgery (Fresh 2 Edit) (6.36) World Class Wreckin' Cru
---
description
Crucial Electro 4 is a ground-breaking album as the tracks featured include Classics featured on the original Electro albums and also other monster Electro tracks that we did not include on the original Electro albums. As well as including the full length original versions, we have included Re-edits of key tracks which are exclusive ONLY on Crucial Electro 4! Many of the tracks on Crucial Electro 4 have not been available for more than 2 decades and can only be bought from Discogs or similar sites on scratched or worn vinyl for sometimes silly money! We have got hold of many of the original master tapes and have re-mastered each track to the highest quality, an audiophiles dream. Add to this the exclusive Street Sounds re-edits and you have an album that is an essential buy for any Street Sounds and Electro fan. The double Vinyl LP will include the full length original versions except where there are exclusive Street Sounds versions, in which case these will be used. ONLY 500 Limited Edition Double Album Vinyls (180gm heavyweight) will ever be pressed!