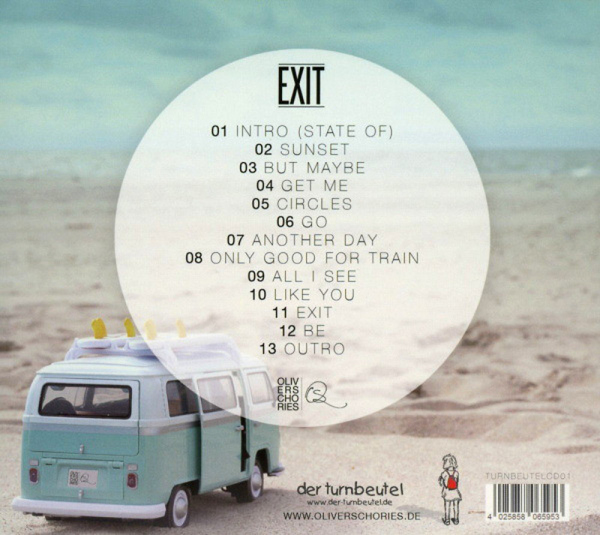 description
Take a long and wistful stare out of routine's window. Beyond the urban sprawl and endless nine-to-five tape loop,
pass the mind's monotonous prattling and humdrum hum of breadwinning, losing and general existing, somewhere
out there burns a summer eternal, with all its romances still in tact. A place full of sweaty nights and protracted lazy
days where the breeze teases with salty lips, and the sun leaves its freckled kiss on basking knees and cheeks. This is
where everything happened just so, where bittersweet memories were made and mistakes first revealed their lessons.
Here is where you can think, reflect or simply escape. Here is your 'Exit'.
Over the last few years Oliver Schories has been refining a warm and delicate style of crossover house and techno,
accruing a potent collection of impassioned dance material for labels such as Kollektiv Turmstrasse's Musik Gewinnt
Freunde, Ostwind and Parquet Recordings. On 'Herzensangelegenheit', his debut album delivered back in March last
year, Schories struck a balance between poignant pop and deeply groovy club work through a melange of soulful
vocals, melodic arrangements and engrossing organic rhythms that once more imbue 'Exit', it's serene and effortlessly
danceable follow up.
Like 'Herzensangelegenheit', 'Exit' transcends both listening and club contexts to present more luscious, heavy-eyed
and hypnotic electronica. Lashed together with signature Oliver Schories tropes, 'Exit' languorously courses between
late night house, punchy peak times and blissful reprieves all the while spelling out some paradisiac escape you'll
want to return to again and again. Lyrical keys and strings, hazy pads and swollen atmospheric timbres form the
album's pillowy base, whilst soft and subtle beatwork keep 'Exit' ticking over with refreshing poise.