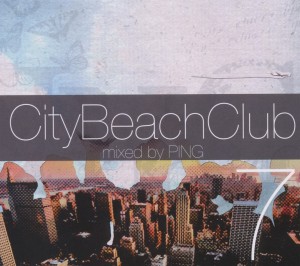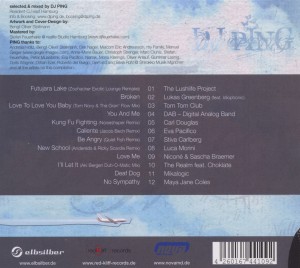 1.
Futujara Lake (Zoohacker Exotic Lounge Remake)
---
3.
Love To Love You Baby (Tom Novy & The Gran´Flow Mix)
---
5.
Kung Fu Fighting (Noiseshaper Remix)
---
6.
Caliente (Jacob Bech Remix)
---
7.
Be Angry (Quit Fish Remix)
---
8.
New School (Anderedo & Ricky
---
10.
I´ll Let It (Aki Bergen Dub-O-Matic Mix)
---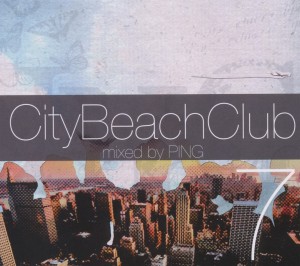 description
Der Sommer ist angekommen. Und während die Tage draußen länger werden und die Sonne uns
immer öfter ihre Wärme schenkt, fehlen nur noch kühle Getränke und die passende Musik für die
perfekte Strandstimmung.
Schon zum siebten mal sorgt DJ PING für ebendiese akustische Entspannung. Mit Lushlife Project und
Lukas Greenberg bietet er einen gewohnt ruhigen Einstieg, mit dem er uns direkt vom Alltag abholt
und in den Feierabend begleitet. Die Tracks "Love to Love you Baby", "You and Me" und die
extravagante Dub-Version von Carl Douglas "Kung Fu Fighting" laden anschließend dazu ein, im
Sonnenuntergang zu versinken.
Spätestens jetzt ist klar, warum die City Beach Club eine so erfolgreiche Lounge-Serie ist. Wie kein
anderer schafft es DJ PING, balearische Beach-Club-Vibrations in urbane Gefilde zu bringen. Und
während die auf Ibizia lebende Eva Pacifico die Luft mit sanftem House verzaubert, laden Stiva
Carlberg, Luca Morini und Niconé & Sascha Braemer uns zu einer Beachparty ein. Spätestens nach
den groovigen Sounds von The Realm, Mikalogic und "No Sympathy" von Maya Jane Coles bleibt kein
Fuß mehr still. Der perfekte Sunset am Strand - und in der Stadt.
Lounge / Easy Listening
Various Artists / DJ Ping
redkliff records
€18.49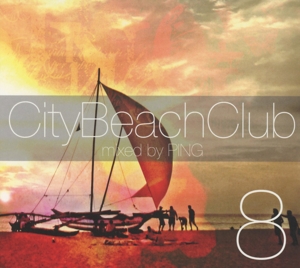 House
Various Artists / DJ Ping
redkliff records
€18.49