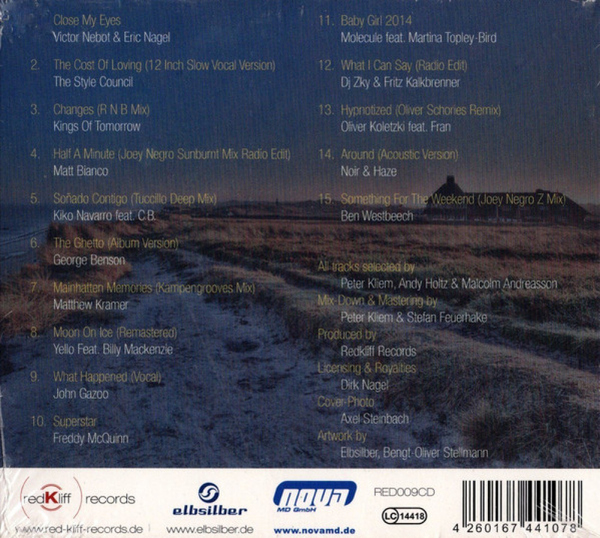 Kampengrooves 9-Loungin' At Redkliff
2.
The Cost Of Loving (12 Inch Slow Vocal Version)
---
4.
Half A Minute (Joey Negro Sunburnt Mix Radio Edit)
---
5.
Sonado Contigo (Tucillo Deep Mix)
---
6.
The Ghetto (Album Version)
---
7.
Mainhattan Memories (Kampengrooves Mix)
---
12.
What I Can Say (Radio Edit)
---
13.
Hypnotized (Oliver Schories Remix)
---
14.
Around (Acoustic Version)
---
15.
Something For The Weekend (Joey Negro Z Mix)
---
description
Das Motiv auf dem Cover ist eine kleine Hommage an die Sturmhaube am Roten Kliff, wo Peter Kliem, der Mann
hinter dem Sound der schönsten Insel Deutschlands, dieses Jahr eine neue kampengrooves Veranstaltungsreihe
gemeinsam mit der Sturmhaube ins Leben gerufen hat: Die kampengrooves@Sturmhaube Chill-outs. Jeden
Sonntag in der Sommersaison legt Peter Kliem dort auf der Außenterrasse vom Nachmittag in den Abend hinein
den echten kampengrooves Mix auf. Die Events waren ein voller Erfolg im Jahr 2011 und werden natürlich im
kommenden Jahr fortgeführt. kampengrooves Volume 9 versammelt einmal wieder Prominenz und schillernde
Künstlerpersönlichkeiten unter dem Namen kampengrooves. Mit dabei sind Songs und Remixes von Style Council,
Kalkbrenner, George Benson, Yello und Matt Bianco. Wie schon bei Volume 8 baut sich über die randvolle CD
(knapp 80 Min. Spieldauer) ein musikalischer Spannungsbogen auf, von langsamen, chilligen Tunes hin zu immer
mehr Puls.