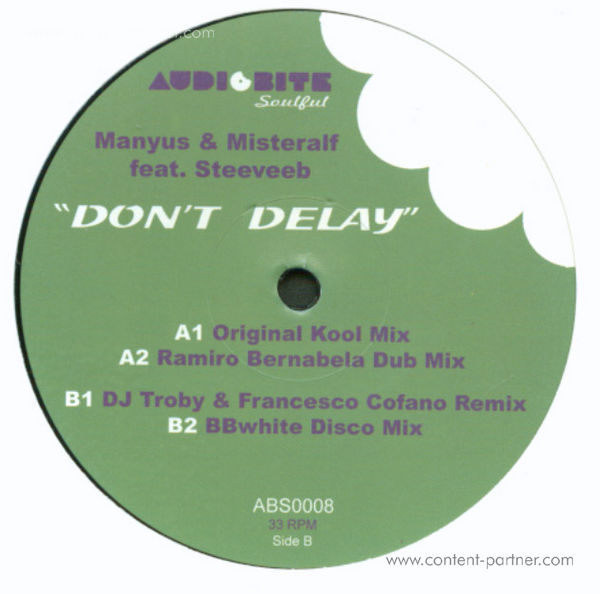 2.
Ramiro Bernabela Dub Mix
---
3.
Dj Troby & Francesco Cofano Remix
---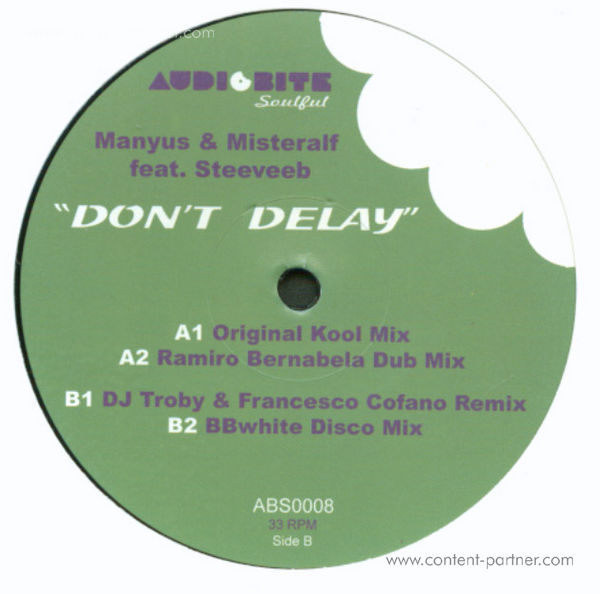 description
"Don't Delay" from Manyus & Misteralf (Purple Music) feat. Steeveeb is our latest soulful house treasure. The 12" vinyl release has 4 tracks, including the Original Kool Mix and 3 remixes from Ramiro Bernabela, and DJ Troby & Francesco Cofano, and BBwhite. The Original Kool mix moving and powerful, with funky guitar riffs and a sweet live saxophone. The lyrics are amazing, with a moving and positive message. Ramiro's Dub Mix has a deep and tech-y house vibe with filtered synth chords and spacey effects. DJ Troby & Francesco Cofano's Remix is sweet and soulful with beautiful organ chords, and it has a warm, happy vibe. BBwhite's Disco Mix is funky and groovy with jazzy saxophones and a deep, funky bassline.

Dario D'Attis (Purple Music) - "Very cool project . . . original mix and BBwhite disco mix sound wicked"

Alex Dimitri (BBE, Salted, SSOH, Code Red, Jellybean Soul, Purple Music, Music Plan) - "Well done guys, nice package and lovely voice. DJ Troby & Francesco Cofano is the best version for me."

Dolls Combers (Open Bar Music, King Street Sounds, Dance 4 Daddy, Reelgroove Records) - "our fav...its DJ Troby and Francesco Cofano....deep and warm"

Craig Stewart (Universe Media, MN2S Recordings, Dance 4 Daddy, SedSoul) - ""Very nice grooves here, our boys Troby & Franceso cut a tasty soulful rework - great work! -Jonny Montana & Craig Stewart"

Anthony Romeno (Purple Music) - "It is a great song...fantastic !!"

Mirko Paoloni (Radio Party Groove) - "Very Nice! Original Kool Mix for me!"

Sandrine K (House Machine) "Very nice productions! Respect :-)"

Morgan Belbruno (Safari Music, Vinyl Pusher) - "Brilliant mixes...Great sound! Will get lots of play from this package - especially the original and disco mixes...but all mixes are fantastic!"

Soulful Joao (Deepersoul Blog) - "this is great! thank you!!"