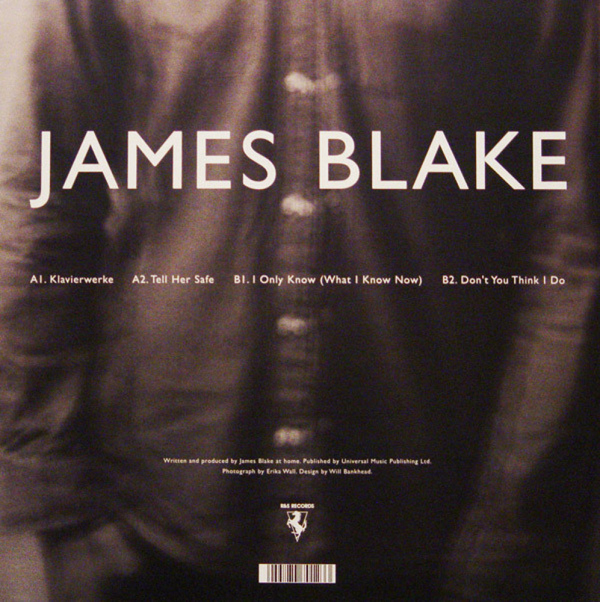 Klavierwerke EP
genre:
Electro / Electronic
To order please add to basket and proceed to check out
description
Next outstanding James Blake Vinyl... Dubstep ? or even more UK Future Bass ? Anyway , just phaaaat Music as we like it...

R&S Records return with another amazing single from the UK future bass scene, following the James Blake R&S debut 'CMYK EP' and the awesome Pariah 'Safehouses' doublepack. Fact magazine recently quoted the label as having 'its finger firmly on the pulse' and 'proveing that R&S remains a force to reckoned with' – high praise indeed.

2010 saw James Blake emerge as the leading light in a populated world of forward thinking music, expertly disposing of the commonly used dubstep rule book with the Bell Sketch 12" on Hessle Audio before teaching daytime radio a strict lesson in quality control with his R&S Records debut CMYK EP. The worlds leading tastemakers were beside themselves, showering the internet with praise, whilst in the outer reaches of the blog ether, rumours of James' songs began to surface. The Klavierwerke EP features the first glimpse of Blakes vocal, albeit cut, pitched and intricately woven into four tracks that offer an insight into James' futuristic soundscape. Where the R&B sampling CMYK EP aimed at the dancefloor, the Klavierwerke EP finds itself on an insular and abstract plain, in places reminiscent of Burials emotive urban hymms while all the time maintaining the distinct originality that sets James apart from the rest. The title track, a sonic realisation of a recent Berlin escapade pays homage to Berghain, the cavernous HQ of techno, where languid pianos and James' pitch shifted vocals collide head on with moody low frequencies. I Only Know (What I Know Now) is a contemplative piece where James' voice is brought to the fore, casting a solemn gaze over his own re-sampled piano to create a contemporary masterpiece. "Don't You Think I Do" follows a similar path, drawing on a side-chained lead synth and trademark piano. Tell Her Safe rounds off the EP, further affecting the vocal against a high tempo beat.