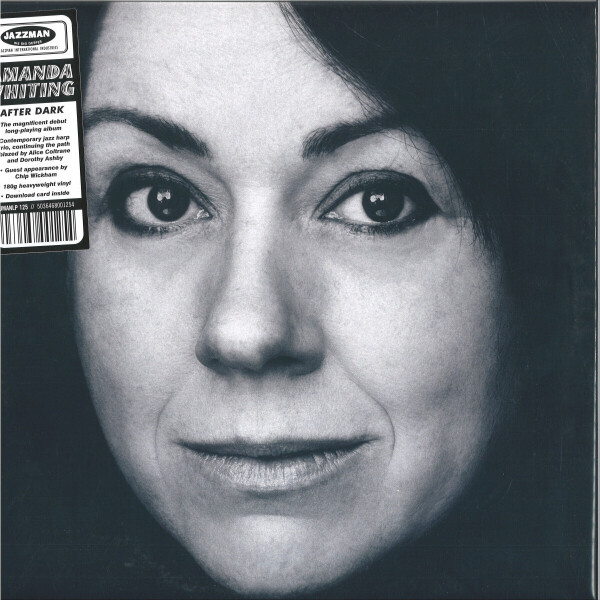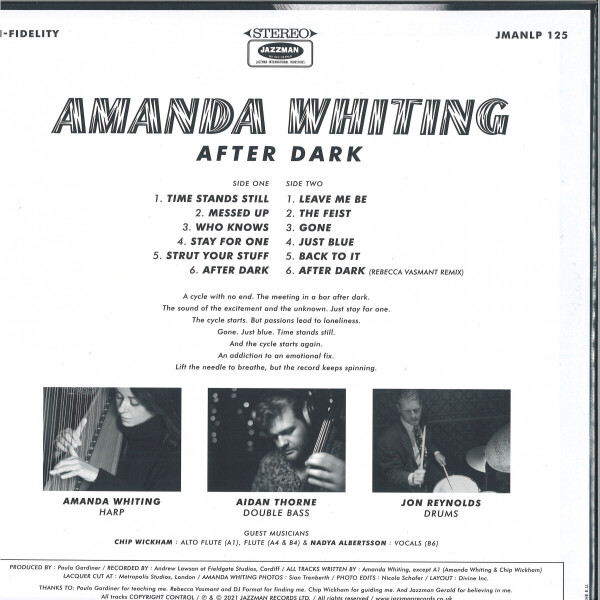 Um den Artikel zu bestellen bitte dem Warenkorb hinzufügen und zur Kasse gehen.
12.
After Dark (Rebecca Vasmant Remix)
---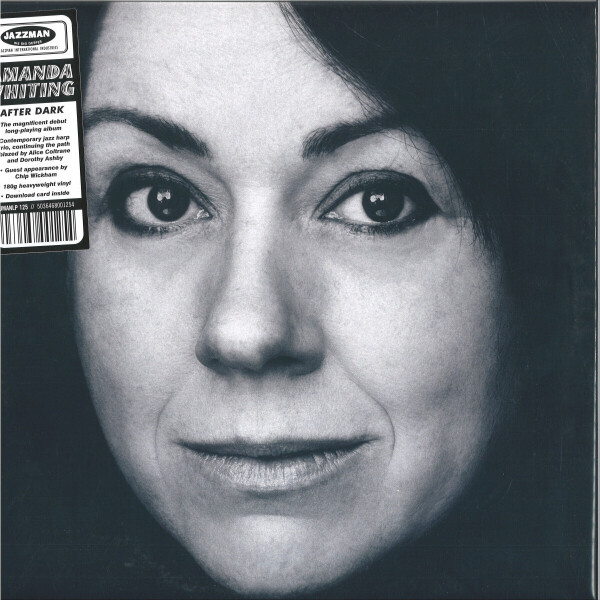 Beschreibung
Taking cues from Dorothy Ashby and Alice Coltrane at their most delicate, renowned Welsh harpist Amanda Whiting's mesmerising Jazzman full-length LPAfter Darkarrives as soft as moonlight to gladden the soul and delight the ear—without forgetting to bring the swing.

Summoning the nocturnal mood suggested by the album's title, Whiting's harp flows and cascades, dances and alights, broods and haunts, informed by a deep understanding of both classical and jazz music, ultimately revealing a top-drawer composer with rare melodic gifts at the top of her game. From the melancholy opening track 'Time Stands Still' to the more rhythmically unorthodox 'Who Knows' to the achingly beautiful title track, the album is underpinned by a supportive band, John Reynolds on drums and Aidan Thorne on bass, who are perfectly suited to engage in an effortless, intimate musical dialogue.

Already an inveterate international jazz festival performer with Matthew Halsall's Gondwana Orchestra, Whiting has supported and performed with a diverse range of Djs and jazz and pop artists including Jamie Cullum, DJ Yoda, Rebecca Vasmant, True Jazzchild, Danii Minogue, Jazzanova, and Chip Wickham (who features on three tracks onAfter Dark,adding a touch of the graceful warmth for which he has been so justly acclaimed). And as Jazz harp teacher at the Royal Welsh College of Music and Drama, the Royal Birmingham Conservatoire, and RNCM, Amanda is as warmly received in the lecture hall as the concert hall. Be sure to to expect more from Amanda in the not too distant future.

Released on 180g vinyl w/ tip-on sleeve.