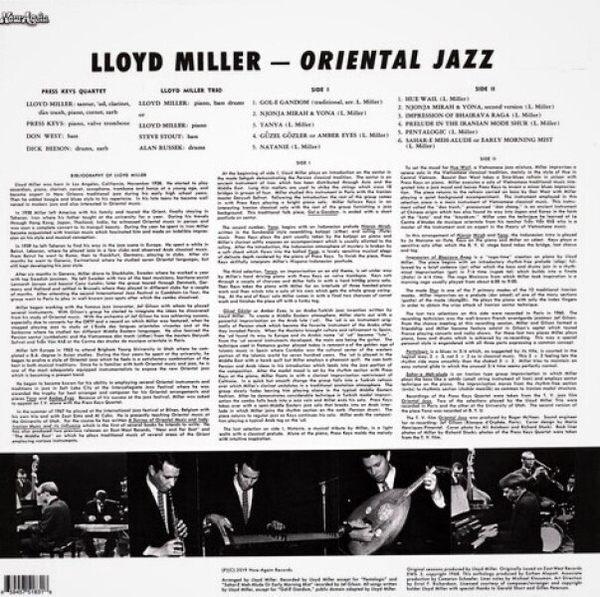 Um den Artikel zu bestellen bitte dem Warenkorb hinzufügen und zur Kasse gehen.
4.
Güzel Gözler Or Amber Eyes
---
7.
Njonja Mirah & Yona (Second Version)
---
8.
Impression Of Bhairava Raga
---
9.
Prelude To The Iranian Mode Shur
---
11.
Sahar-E Meh-Alude Or Early Morning Mist
---
Beschreibung
Back in stock! Born in 1938, and raised in Glendale, California, Lloyd Miller has had one of the most unusual careers in all of jazz. By age 12 he had declared an
intent to make his living as a jazz musician, and by high school he had already begun to experiment, shunning swing music's mechanical perfection,
and chafing at his parents' desire for him to nurture his talents with formal training. This tumultous relationship with his parents would eventually
lead to a stint in a psychatric hospital, before reuniting with them in moving to Iran, his father having accepted a job working for the Shah.
Stops in Hong Kong, Japan and Pakistan on the way to Iran deepened Miller's connection to other cultures he'd first felt while listening to old world
music compilations. He felt a definite calm and peace, an immense respect from everyone towards everyone else, and immersed himself in other
cultures and languages immediately. Miller spent a year in Iran with his family, picking up Farsi after a few short months, and steadily gaining more
and more of an appreciation for how deep the roots of Persian art run. However, still committed to his decision forge a career in jazz, Lloyd left Tehran
in 1958 to head to Europe to see if he could make a living from jazz music.
Miller kicked around the continent, first in Germany, then in Switzerland, Sweden and Brussels. He collaborated and performed alongside 60s jazz
legend Jef Gilson, and experimented with exotic instrumentation before returning to America to resume his studies at Brigham Young University in
Utah. In the years following his stint with Gilson, Miller had become more and more disillusioned with both modern music and modern society, which
had ashewed jazz for rock music, which he detested. In Miller's conception, for a music to have value it had to have a deep connection to a tradition,
specifically connecting jazz to African lore.