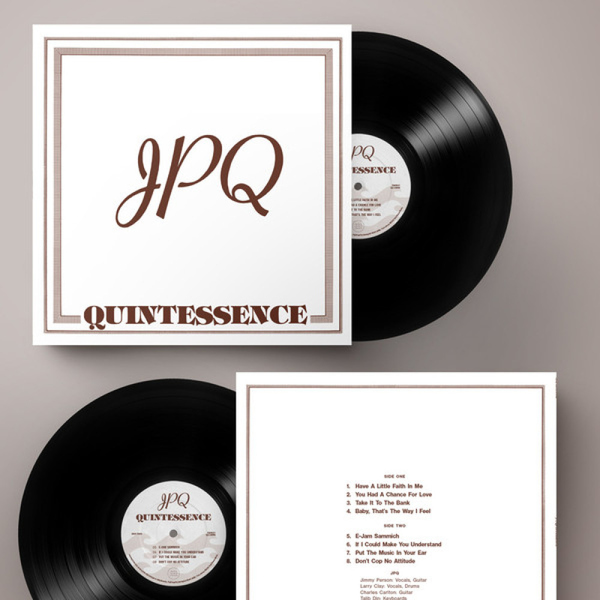 Quintessence (Black Vinyl Deluxe 180g Edition)
Um den Artikel zu bestellen bitte dem Warenkorb hinzufügen und zur Kasse gehen.
1.
Have A Little Faith In Me
---
2.
You Had A Chance For Love
---
4.
Baby, That's The Way I Feel
---
6.
If I Could Make You Understand
---
7.
Put The Music In Your Ear
---
Beschreibung
-Rare Private Pressed NC Funk/Soul from 1983 - First vinyl reissue since 1983 - Comes with insert - Deluxe 180g vinyl edition - Black Vinyl Edition Limited to 500 copies // JPQ (Jimmy Person Quintet) was a short-lived soul & funk band from the Greensboro, North Carolina area who released just one album in 1983. Their only album (Quintessence) would become a much sought-after private pressed holy grail within the record collecting community. Jimmy Person started performing as a singer/guitarist in the early 70's in Greensboro_after appearing at several local events and multiple appearances on WFMY-TV, he was approached to perform regularly at a restaurant (named Sammy's) that featured live music. By the mid 70's Jimmy began working with his sister (Rhoda Randolph) and his then wife (Marilyn Person) both featuring as background singers. Other skilled musicians began to sit in on Jimmy's performances_starting with Charles Carlton (guitar), followed by Cirt Gill (bass guitar) and then finally by Larry Clay (drums). The group gained quick popularity and played to a regular packed house. After Talib Din (keyboards) joined_JPQ was now complete! Offers for gigs started coming in fast and the group began giving regular performances at a larger restaurant named Huck's. With a fast growing fanbase, the group started evolving beyond just being Person's "backup band" to a serious outfit with strong lead-vocals by Jimmy, Larry, and Cirt. The group started traveling to perform at dances, wedding receptions, concerts, clubs, and outdoor jazz events. The group performed as an opening act for many national artists from the likes of Melba Moore, Archie Bell and The Spinners as their popularity increased. JPQ is still remembered today for their memorable live performances in North Carolina, South Carolina, and Virginia! JPQ's first recording was, "Have A Little Faith in Me" released as a 45 single. The 7inch got radio airplay on stations in North Carolina and this then led to the produ