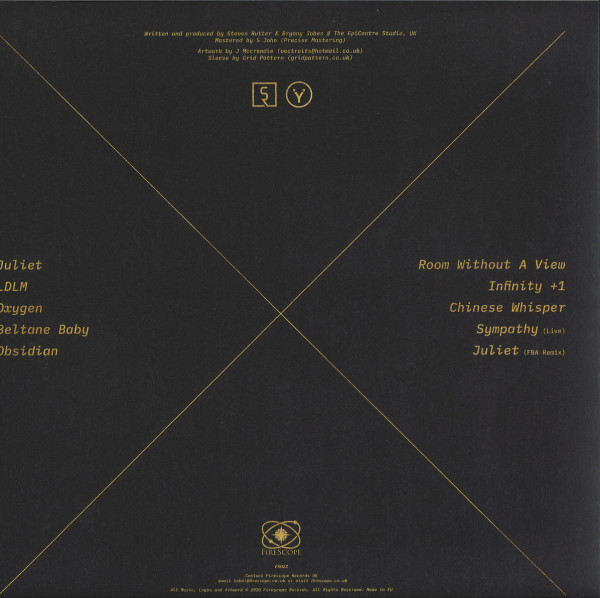 StarCrossed (Gold LP)
Genre:
Electro / Electronic
Beschreibung
One half of cult techno duo B12 (Warp Records) Steven Rutter pairs up with London-based vocalist and songwriter Bryonii to kick off 2020 with an album on Rutter's FireScope imprint.

Steven Rutter and rising artist Bryonii have been a solid studio pair developing a sound which is organic yet otherworldly, ever evolving and driven by a mutual appreciation of each other's musical sensibility. The album makes for honest, emotive listening and is influenced by the likes of Atoms For Peace, Portishead and Grimes amongst others. Their debut album is a sultry, soul infused work with bass heavy bottom ends and weighty rhythms.

'Juliet' is intense and brooding, with percolating synths and haunting chords overlaid with Bryonii's breathy but eerie vocals while 'LDLM' is more spacious and eerie, with xylophone sounds ringing out brightly over sparse drums. Bryonii here is more vulnerable and reserved but just as impactful. After the twitchy electronics and scattered riffs of lurching bass tune 'Oxygen' is the taught 'Beltane Baby' with its twanging bass riffs propping up scattered hits. The lush harmony layers of Bryonii's voice sit amongst weird sound designs and sci-fi effects that make this a dystopian take on something similar to trip-hop.

The unsettling futuristic style continues on experimental kaleidoscope 'Obsidian' while the mood is somewhat reset with the dreamy and tripped out lullaby that is 'Room Without A View,' which features Bryonii's most heartfelt delivery. 'Chinese Whisper' is another inventive offering that explores downbeat moods and shimmering chords and synths and stirring r&b styles from Bryonii. 'Sympathy Live' is a heartfelt plea with a devastatingly emotional impact and last of all is an FBA remix of 'Juliet' primed for the dance floor.

This is an avant-garde mix of vocals and electronic sounds that add up to something very real and human, as well as packing some serious bass weight and a wealth of new ideas.