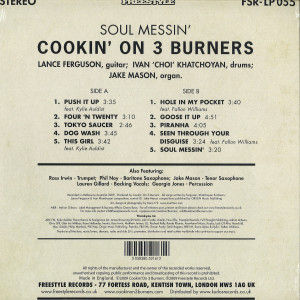 Soul Messin' (10th Anniv. Clear Vinyl LP)
1.
Push It Up Feat. Kylie Auldist
---
5.
This Girl Feat. Kylie Auldist
---
6.
Hole In My Pocket Feat. Fallon Williams
---
9.
Seen Through Your Disguise Feat. Fallon Williams
---
Beschreibung
Cookin' On 3 Burners celebrate 10 years of the Soul Messin' album with a special anniversary edition pressed on clear vinyl. The LP contains 2 extra tracks never on the original or previous pressings. Featuring special guest vocalists Fallon Williams and Kylie Auldist, the album boasts the sort after sweet soul hit This Girl.

Originally released in 2009 on Freestyle Records, the album is now out on the bands own label Soul Messin' Records and features the original line up, Jake Mason, Lance Ferguson and Ivan Khatchoyan.

Since its inception in 1997, Cookin' On 3 Burners has continuously evolved and branched out, bringing their strong trio sound and fiery interplay to audiences worldwide.

Prolific collaborators, Cookin' On 3 Burners have recorded with many of the worlds finest artists including Daniel Merriweather, Fallon Williams, Tex Perkins, Kylie Auldist, Stella Angelico, Kaiit, Emmi and many others.

The Kungs vs Cookin' On 3 Burners remix of This Girl exposed them to a global audience with substantial chart success world-wide, reaching #1 in Europe, #2 in the UK and was the worlds most Shazamed dance track of 2016.