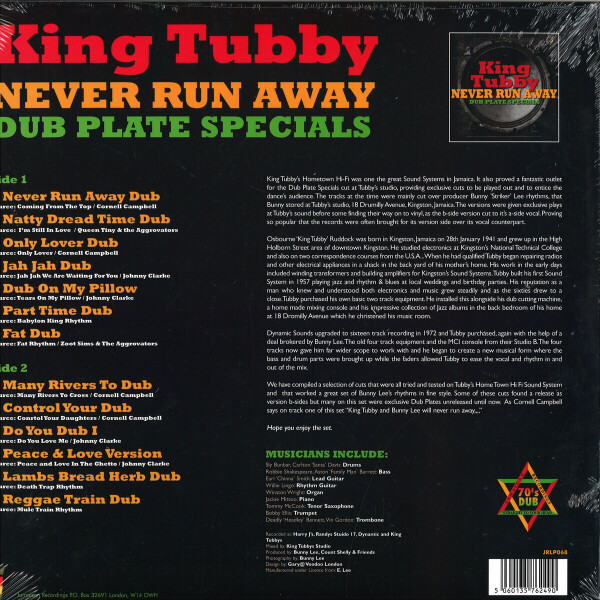 Never Run Away-Dub Plate Specials
Um den Artikel zu bestellen bitte dem Warenkorb hinzufügen und zur Kasse gehen.
Beschreibung
King Tubby's Hometown Hi-Fi was one of the great Sound System in Jamaica.
It also proved a fantastic outlet for the Dub Plate Specials cut at Tubby's studio, providing exclusive cuts to be played out and to entice the dance's audience.
The tracks at the time were mainly cut over producer Bunny'Striker'Lee rhythms, that Bunny stored at Tubby's studio, 18 Drumilly Avenue, Kingston, Jamaica.
The versions were given eclusive plays at Tubby's sound before some finding their way on to vinyl, ass the b-side version cut to it's a-side vocal.
It proved so popular that the records were often brought fir its version side over its vocal counterpart.
We have compiled a selection of cuts that were all tried and tested on Tubby's Home Town Hi-Fi Sounf System and that worked a great set of Bunny Lee's rhythms in fine style.
Some of these cuts found a release as version b-sides but many on this set were exclusive Dub Plates unreleased until now.
As Cornell Campbell says on track one of the set 'King Tubby and Bunny Lee will never go away'
Hope you enjoy the set......