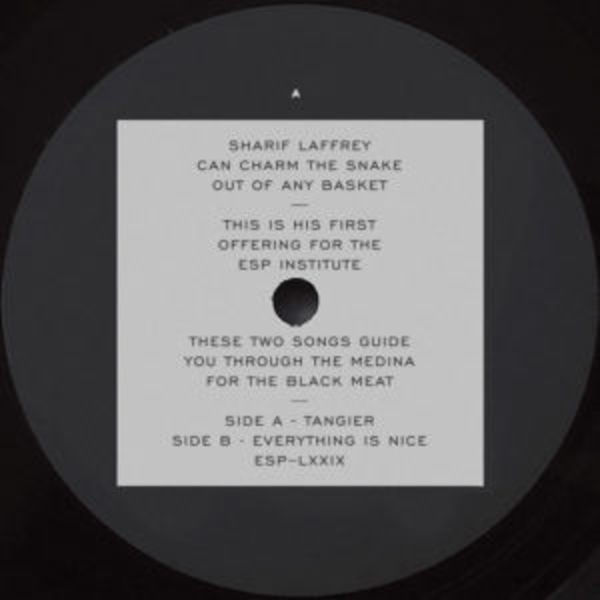 Tangier/ Everything Is Nice
Um den Artikel zu bestellen bitte dem Warenkorb hinzufügen und zur Kasse gehen.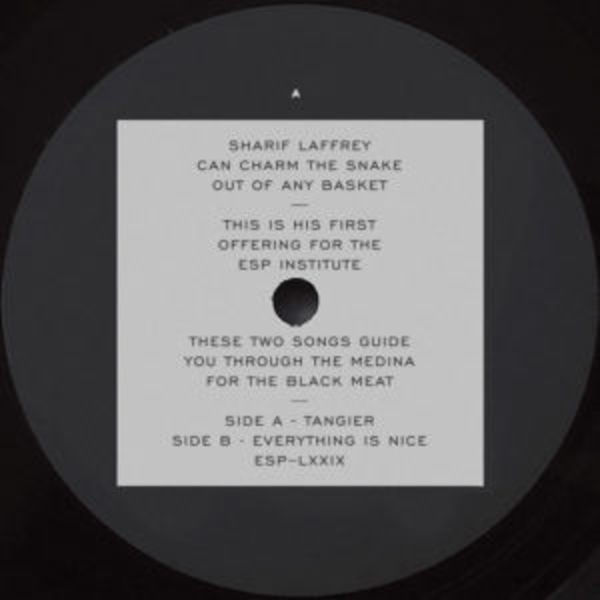 Beschreibung
Sharif Laffrey can charm the snake out of any basket. This is his first offering for the ESP Institute. Side A's Tangier is a long drawn-out exercise, an endurance test of the highest order. Over the span of some thirteen minutes, elements bob and weave intermittently and layers overlap haphazardly—the type of exciting dynamic that's born out of restriction—as if putting down a live jam without enough hands to work the console, yet Sharif perseveres. As touch and go as this arrangement may be, there is something that undoubtedly glues it all in place; the combination of his massive rolling 16th-note bassline and his tough-as-nails drumkit is so good that, upon first listen, we spat out our tea and insisted on its release. On side B, Everything Is Nice carries on with loose arrangement, dirty production and layers of inexplicable spoken- word samples (a Sharif calling card by now) but this time we're lead to a melancholy place, the blue comedown to Side A's antagonistic trial. With his ESP Institute debut, Sharif leaves you mentally unhinged, as if you've smoked something interesting and arrived bewildered in some Saharan labyrinth. These two songs will guide you through the medina to score the black meat.