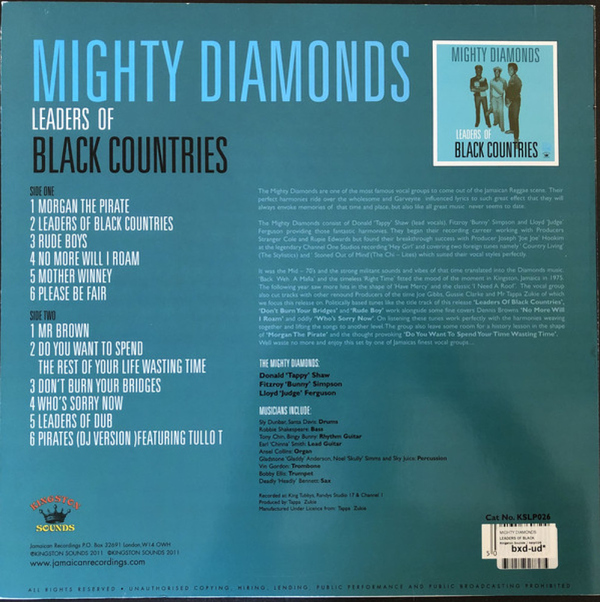 Leaders Of Black Countries'
2.
Leaders Of Black Countries
---
8.
Do You Want To Spend The Rest Of Your Life Wasting Time
---
9.
Don't Burn Your Bridges
---
Beschreibung
The Mighty Diamonds are one of the most famous vocal groups to come out of the Jamaican Reggae scene.
Their perfect harmonies ride over the wholesome and Garveyite influenced lyrics to such great effect that they will always evoke memories of that time and place, but also like all great music never seems to date.

The Mighty Diamonds consist of Donald 'Tappy' Shaw (lead vocals) Fitzroy 'Bunny' Simpson and Lloyd 'Judge' Ferguson providing those fantastic harmonies.
They began their recording career working with producers Stranger Cole and Rupie Edwards but found their breakthrough success with producer Joseph 'Joe Joe' Hookim at the legendary Channel One Studios recording 'Hey Girl' and covering two foreign tunes namely 'Country Living' (The Stylistics) and 'Stoned Out of Mind' (The Chi-lites) which suited their vocal styles perfectly.

The vocal group also cut tracks with other famous producers of the time Joe Gibbs ,Gussie Clarke and Mr.Tappa Zukie of which we focus this release on.On listening, these tunes work perfectly with harmonies weaving together and lifting the songs to another level.
The group also leave some room for a history lesson in the shape of 'Morgan the Pirate' and the thought provoking 'Do You Want to Spend Your Time Wasting Time'.
Well waste no more and enjoy this set by one of Jamaica's finest vocal groups....