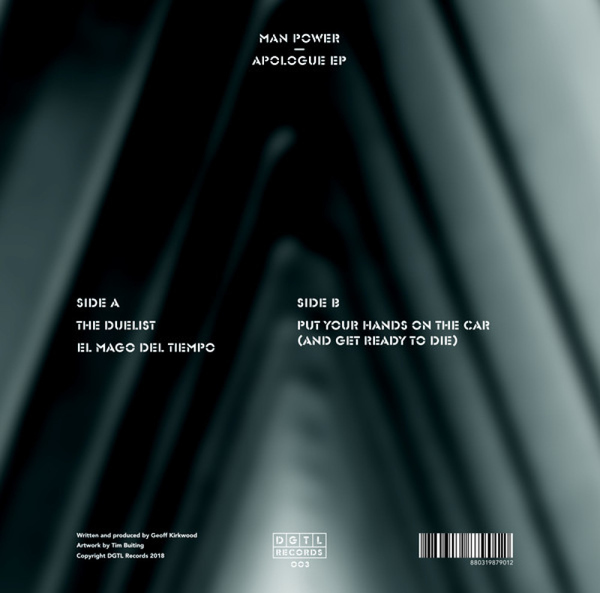 3.
Put Your Hands On The Car (And Get Ready To Die)
---
Beschreibung
Man Power his raw electronic sound, organic flourishes and diverse selection make him a perfect match for DGTL, both on stage as well as on the imprint. Next to releasing a steady flow of records on established labels like ESP Institute, Optimo Trax, Correspondant and Hivern Discs, Man Power is running his own shop as well: Me Me Me. This gives him an outlet to release music by both friends and himself. For his release on DGTL Records he created a three-track EP called Apologue EP, that showcases just two of different sides of his multi-faceted musical scope.

The a-side features two firm, acid influenced tracks. The first of these two, The Duelist, is an emotive house record, with a soundscape of piano melodies, synths and syncopated percussion laid on top of an acid bassline. El Mago del Tiempo features heavy hitting kicks combined with a sharp synth pattern. It has a long build up that keeps evolving throughout the entire composition. Halfway through, the track breaks in to a raw and fierce rhythm accompanied by yearning, drawn-out synth pads.
On the flipside, Put Your Hands on the Car (And Get Ready To Die) brings back memories of a long gone past with nods to Balearic Pop, EBM, and the Soundtrack work of Stewart Copeland, James Horner, and Jan Hammer. This multi layered production has a warm and analogue sounding feel to it that rounds off a 3 dimensional release.

You will find the new Man Power record in your favourite record shop, be it online or offline, on the 2nd of February.