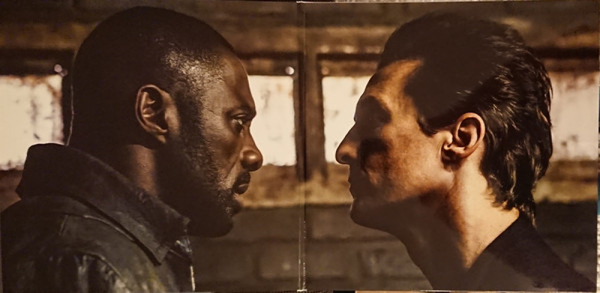 Dark Tower (OST) (Ltd. transp. Vinyl)
13.
We Don't Have Chicken
---
16.
There's Always Another Battle
---
17.
A Chicken, A Goat And One Bullet
---
24.
Tall, Dark And Handsome
---
25.
Full Package As Advertised
---
29.
Roland Of Eld (Main Titles)
---
Beschreibung
180 GRAM AUDIOPHILE VINYL
PVC PROTECTIVE SLEEVE GATEFOLD SLEEVE INCLUDES A 4 PAGE BOOKLET
FIRST PRESSING OF 1.000 NUMBERED COPIES ON "TRANSPARENT BLUE WITH A DARK EDGE" VINYL

Roland Deschain (Idris Elba), the last Gunslinger, is locked in an eternal battle with Walter O'Dim (Matthew McConaughey), also known as the Man in Black.

The Gunslinger must prevent the Man in Black from toppling The Dark Tower, the key that holds the universe together.

With the fate of worlds at stake, two men collide in the ultimate battle between good and evil.

The Dark Tower premiered at the Museum of Modern Art in New York City earlier this year.

The score is composed by multiple award winner Tom Holkenborg aka Junkie XL who rose to fame in 2002 after his remix of Elvis "Little Less Conversation" reached the top spot in multiple countries.

In recent years Tom has become one of the most talented and influential composers around the globe.

His work includes scores of Batman v. Superman, Deadpool, Mad Max: Fury Road, Black Mass, Point Break and many more.

The first pressing of The Dark Tower is pressed on "Transparent blue with a dark edge" vinyl.

Only 1.000 individually numbered copies are available.