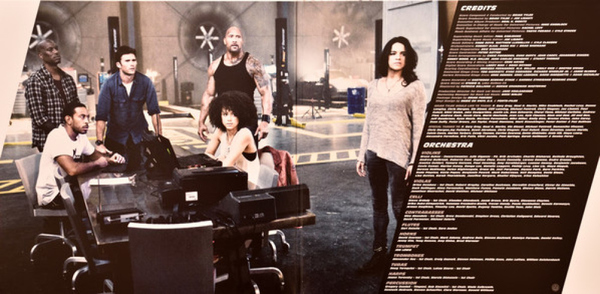 The Fate Of The Furious (Ltd. Silver Vinyl)
1.
The Fate Of The Furious
---
Beschreibung
180 GRAM AUDIOPHILE VINYL PVC PROTECTIVE SLEEVE GATEFOLD SLEEVE WITH DELUXE SPOT VARNISH CONTAINS EXCLUSIVE POSTER AND 4 PAGE BOOKLET FIRST PRESSING OF 1.000 INDIVIDUALLY NUMBERED COPIES ON SILVER VINYL SCORE BY BRIAN TYLER, FEATURING MERCURY PRIZE WINNER SAM LEE The Fate of the Furious (alternatively known as Fast & Furious 8) is the eighth installment in The Fast and the Furious franchise.

The film stars Vin Diesel, Dwayne Johnson, Jason Statham, Michelle Rodriguez and Tyrese Gibson.

The Fate of the Furious follows Dominic Toretto, who has settled down with his wife Letty (Rodriguez), until cyberterrorist Cipher coerces him into working for her and turns him against his team, forcing them to find Dom and take down Cipher.

The film turned out to be a huge blockbuster and has grossed over $1.2 billion worldwide, making it the second highest-grossing film of 2017 and the eleventh highest-grossing film of all time.

The score is written and produced by Brian Tyler. Tyler is easily one of the busiest composers around today.

He won Composer of the Year at the 2013 Cue Awards and was nominated for a 2014 BAFTA Award.

In 2010, Tyler was inducted into the music branch of the Academy of Motion Picture Arts and Sciences.

The first pressing of Fate Of The Furious is available on silver vinyl. This is a limited edition of 1.000 individually numbered copies.

The 2LP set-package contains an exclusive poster, as well as a 4 page booklet with pictures and credits.

The gatefold has a special spot varnish effect.