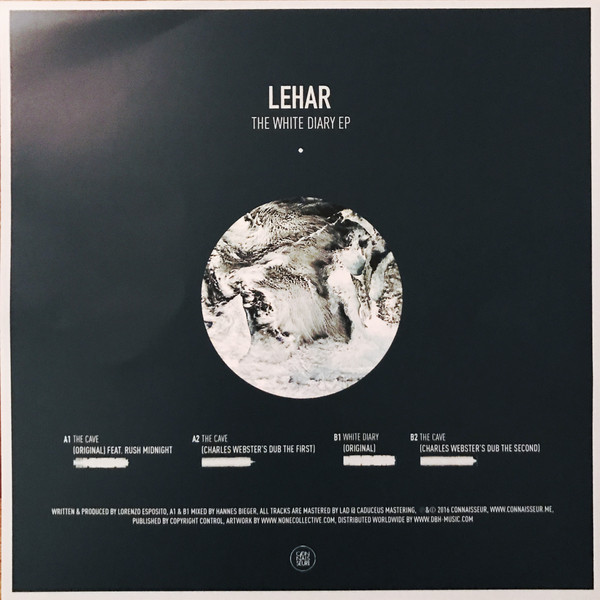 The White Diary Ep (incl. Charles Webster Rmx)
Um den Artikel zu bestellen bitte dem Warenkorb hinzufügen und zur Kasse gehen.
Beschreibung
Just in time for ADE, we are more than happy to present a new release by one of our main protagonists since our renaissance. Lehar has made a fascinating career in only two years, he is a key member in our label family as well as Diynamic and plays gigs around the world. His "White Diary EP" is his most unique release so far, with two original tracks by him and two dub versions by UK house legend Charles Webster.
"The Cave" is a very touching track which again shows Lehar's love for deep but popish moments in his music. Again, he has teamed up with L.A. singer Rush Midnight, who already lent his voice to "Number One Hero", which was released earlier this year on the Diynamic sub-imprint 2Diy4. An instrumental version is also available in the digital package.
The title track "The White Diary" is a demanding and hypnotic builder, which was already played often by Solomun during the summer. This is a next level Lehar track, signature sound structure combined with a highly effective arrangement. A winner for many situations.
Charles Webster has been a favourite of the Connaisseur label heads Alex Flitsch and Martin Henkel for ages. Requesting a remix by him has been on the Connaisseur bucket list since day one. He gave "The Cave" two different dub treatments, one
better than the other. His "Dub the First" already takes the original one foor deeper, making it very timeless and hypnotic. His "Dub the Second" takes it even deeper and is adding a proper portion of trippiness. Music for the guardians of the real stuff!