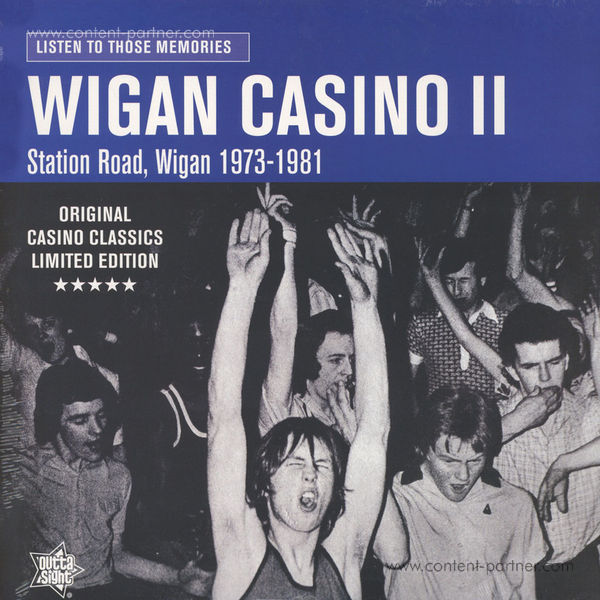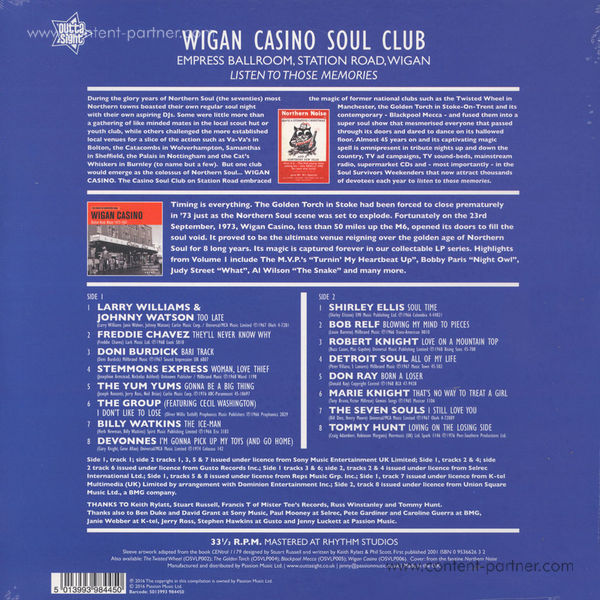 Wigan Casino II/Station Road, Wigan 1973-81
Um den Artikel zu bestellen bitte dem Warenkorb hinzufügen und zur Kasse gehen.
1.
Larry Williams & Johnny Watson - Too Late
---
2.
Freddie Chavez - They'll Never Know Why
---
3.
Doni Burdick - Bari Track
---
4.
Stemmons Express - Woman Love Thief
---
5.
The Yum Yums - Gonna Be A Big Thing
---
6.
The Group - I Don't Like To Lose feat Cecil Washington
---
7.
Billy Watkins - The Ice-Man
---
8.
Devonnes - I'm Gonna Pick Up My Toys (& Go Home)
---
9.
Shirley Ellis - Soul Time
---
10.
Bob Relf - Blowing My Mind To Pieces
---
11.
Robert Knight - Love On A Mountain Top
---
12.
Detroit Soul - All Of My Life
---
13.
Don Ray - Born A Loser
---
14.
Marie Knight - That's No Way To Treat A Girl
---
15.
The Seven Souls - I Still Love You
---
16.
Tommy Hunt - Loving On The Losing Side
---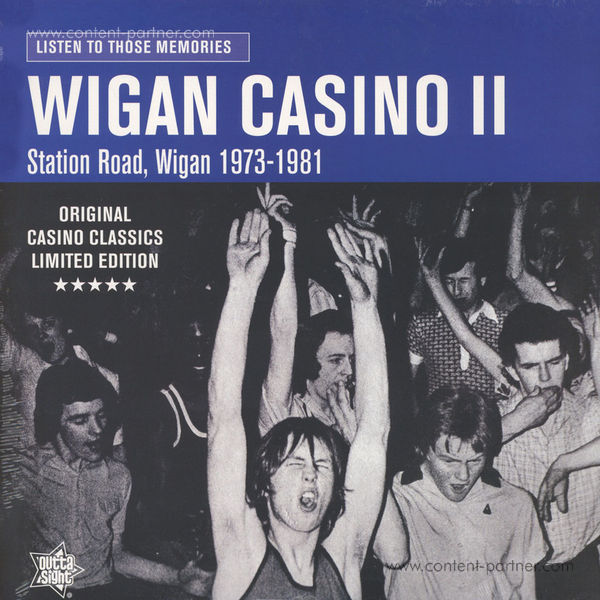 Beschreibung
A uniquely themed set featuring classic oldies from the playlists of founding Northern Soul jocks Russ Winstanley, Richard Searling, and crew at the legendary Wigan Casino.
During the glory years of Northern Soul (the seventies) most Northern towns boasted their own regular soul night with their own aspiring DJs. Some were little more than a gathering of like minded mates in the local scout hut or youth club, while others challenged the more established local venues for a slice of the action such as Va-Va's in Bolton, the Catacombs in Wolverhampton, Samanthas in Sheffield, the Palais in Nottingham and the Cat's Whiskers in Burnley (to name but a few).
But one club would emerge as the colossus of Northern Soul... WIGAN CASINO. The Casino Soul Club on Station Road embraced the magic of former national clubs such as the Twisted Wheel in Manchester, the Golden Torch in Stoke-On-Trent and its contemporary - Blackpool Mecca - and fused them into a super soul show that mesmerised everyone that passed through its doors and dared to dance on its hallowed floor. Almost 45 years on and its captivating magic spell is omnipresent in tribute nights up and down the country, TV ad campaigns, TV sound-beds, mainstream radio, supermarket CDs and - most importantly - in the Soul Survivors Weekenders that now attract thousands of devotees each year to listen to those memories.