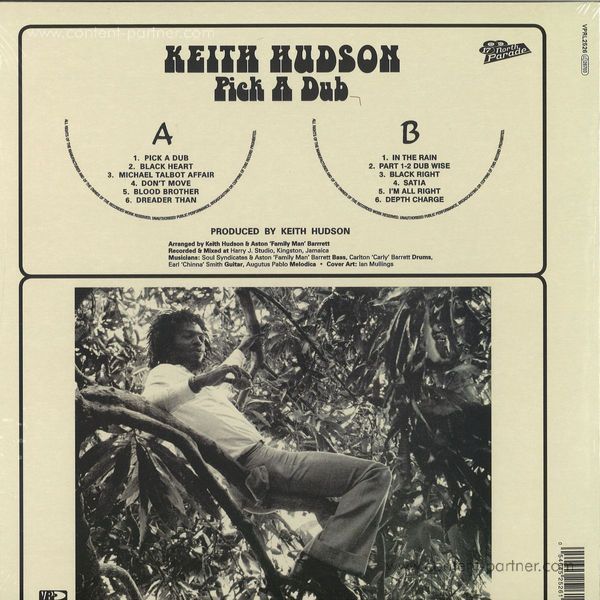 Pick A Dub (Expanded 2LP/Original Artwork Edition)
Um den Artikel zu bestellen bitte dem Warenkorb hinzufügen und zur Kasse gehen.
3.
A3: Michael Talbot Affair
---
17.
C5: Fight On Fight On
---
18.
D1: Don't Think About Me (Horace Andy)
---
19.
D2: Addis Ababa Place In Africa (Delroy Wilson)
---
20.
D3: Fat Baby (Augustus Pablo)
---
Beschreibung
"The greatest dub album ever" (Jon Savage: author of England's Dreaming) / "Essential" (Steve Barrow & Peter Dalton: Rough Guide To Reggae). "Pick A Dub" showcased the enduring strength and pivotal importance of the rhythm to the development of reggae music. Keith Hudson's complete mastery of the genre and the unqualified praise that followed its release was fully justified. The album's 'austere sonic qualities' are awe inspiring, the superb rhythms are given full rein, unencumbered by extra effects and studio trickery. The overall effect is as mesmerising now as it was over forty years ago. The CD comes in a digipak with additional 12-page booklet and contains as extra tracks eight vocal cuts of the featured dubs including two previously unreleased tracks. As well the 2LP-set is extended to 20 tracks, the original album on side A and B, side C and D have the extra tracks of vocal cuts of the dubs including two previously unreleased ones.

Musicians include the Soul Syndicate session band, plus Aston Barrett (Bass), Calton Barrett (Drums), Earl "Chinna" Smith (Guitar), Augustus Pablo (Melodica)
Recorded and mixed at Harry J Studios, Kingston, Jamaica 1973-1974.
Produced by Keith Hudson and Aston "Family Man" Barrett.