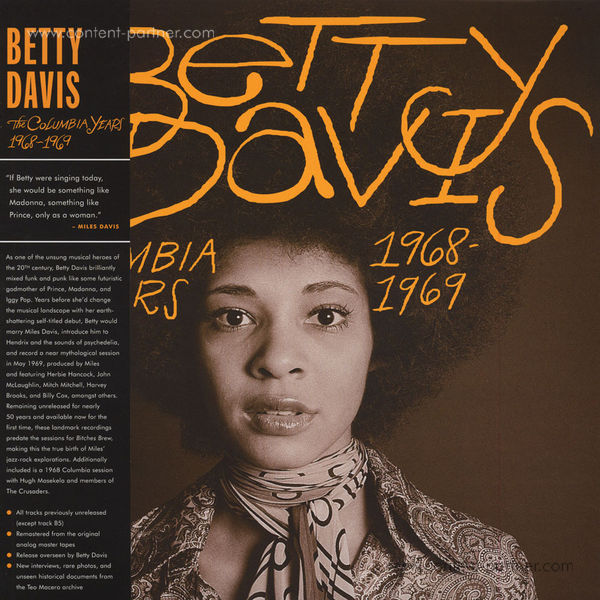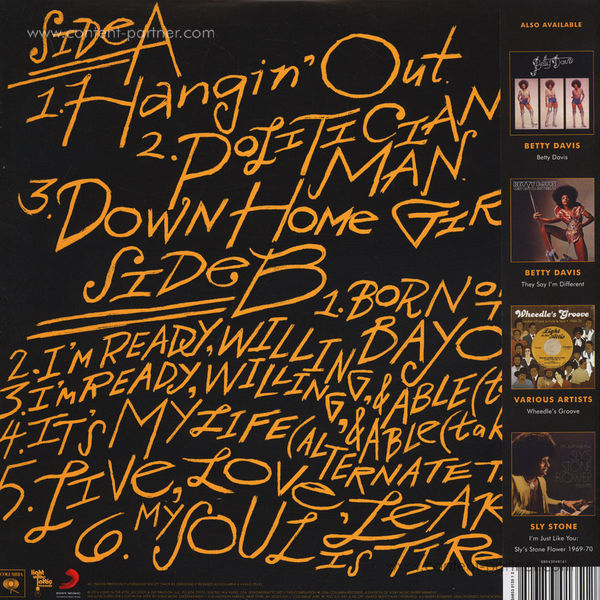 The Columbia Years 1968-1969
Um den Artikel zu bestellen bitte dem Warenkorb hinzufügen und zur Kasse gehen.
5.
I'm Ready, Willing & Able (Take 1)
---
6.
I'm Ready, Willing & Able (Take 1)
---
7.
It's My Life (Alternate Take)
---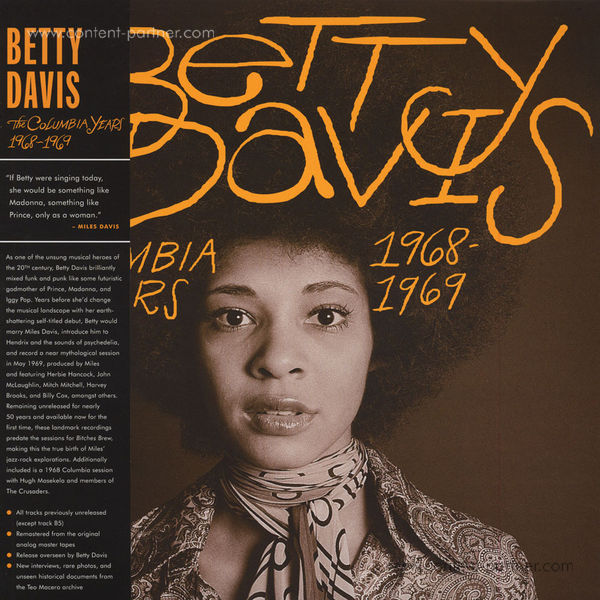 Beschreibung
All tracks previously unreleased (except track B5/8)- Production by Miles Davis & Teo Macero with performances from Hugh Masekela, Mitch Mitchell (Jimi Hendrix Experience), John McLaughlin, Herbie Hancock, Harvey Brooks, Wayne Shorter, Billy Cox (Band of Gypsys), Larry Young, and members of The Jazz Crusaders- Remastered from the original analog master tapes- New interviews, rare photos, and unseen historical documents from the Teo Macero archive

One can hardly imagine Prince, Erykah Badu, or Outkast without the influence of Betty Davis. Her style of raw and revelatory punk-funk defies any notions that women can't be visionaries in the worlds of rock and pop. In recent years, rappers from Ice Cube to Talib Kweli have rhymed over her intensely strong but sensual music. Betty penned the song "Uptown" for The Chambers Brothers and wrote the tunes that got The Commodores signed to Motown. The Detroit label soon came calling, pitching a Motown songwriting deal, which Betty turned down. Motown wanted to own everything. Heading to the UK, Marc Bolan of T. Rex urged the creative dynamo to start writing for herself. A common thread throughout Betty's career would be her unbending DIY ethic, which made her quickly turn down anyone who didn't fit with the vision. She would eventually say no to Eric Clapton as her album producer, seeing him as too banal. In 1968, she married Miles Davis and quickly influenced him on the magic of psychedelic rock along with introducing him to Jimi Hendrix—personally inspiring the classic album, Bitches Brew.

Miles and Betty fans have long debated the truth of a near mythological session recorded in Studios B and E at Columbia's 52nd Street Studios on May 14th and 20th, 1969. The landmark session was produced by Miles and Teo Macero and featured Betty on vocals, accompanied by Jimi Hendrix Experience drummer Mitch Mitchell, guitarist John McLaughlin, Herbie Hancock on keys, and Dylan/Miles session bassist Harvey Brooks.
Funk
Betty Davis
light in the attic
28,99 €
Funk
Betty Davis
Light In The Attic
25,99 €