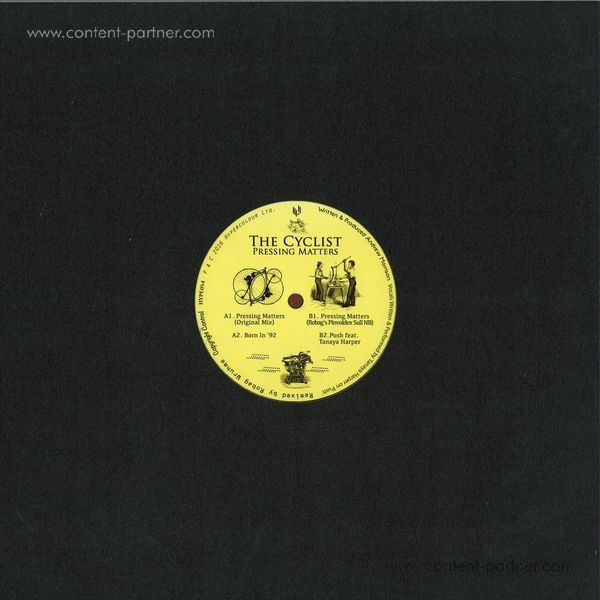 Um den Artikel zu bestellen bitte dem Warenkorb hinzufügen und zur Kasse gehen.
1.
Pressing Matters (Original Mix)
---
2.
Pressing Matters (Robag Wruhme'S Pinvoldex Sull Nb)
---
4.
Push feat. Tanaya Harper
---
Beschreibung
The Cyclist produces, what he has termed, "Tape Throb", musical excursions into techno dance that echo the production techniques and warm sounds of the electronic pioneers, taking his cues from the likes of Throbbing Gristle and Boards Of Canada. His releases to date on labels like Stones Throw, All City Records, Music Is For Losers and Crash Symbols have seen him rack up four full length albums (including under his Buz Ludzha moniker) with plenty more juice in the tank, as his debut on Hypercolour attests to.

"Pressing Matters" harks back to the golden age of breakbeat, bendy synths and pliable bass smack in the face of brain melting breaks, delivered with energy and a very authentic touch. A hugely unique sound and without frontiers, it's a cut that will cross genres with ease.

Robag Wruhme never fails to disappoint as a producer/remixer, his purple patch seems to show no sign of letting up, with releases on Pampa, Kompakt and remixes for Stimming, Alter Ego and Paul Kalkbrenner. His remix of "Pressing Matters" masterfully flips from its breaks origins into a twisted four to the floor belter, with grandiose touches and church like organs giving it a spiritual spin.

"Back In '92" will indeed evoke memories 24 hour pirate radio output and raving in fields, and for those who weren't there first time around, it's a cut that's as fresh and vital sounding today as it ever was, with light piano riffs and melodious keys over the choppy drums.

Featuring the vocal talents of Tanaya Harper, "Push" closes the EP in fine style, intricate drum patterns and rolling snares jar against the ethereal vocal performance and brooding synths, a quintessentially British type of production and one that treads similar territory to Jamie XX's recent pathos to UK rave culture.