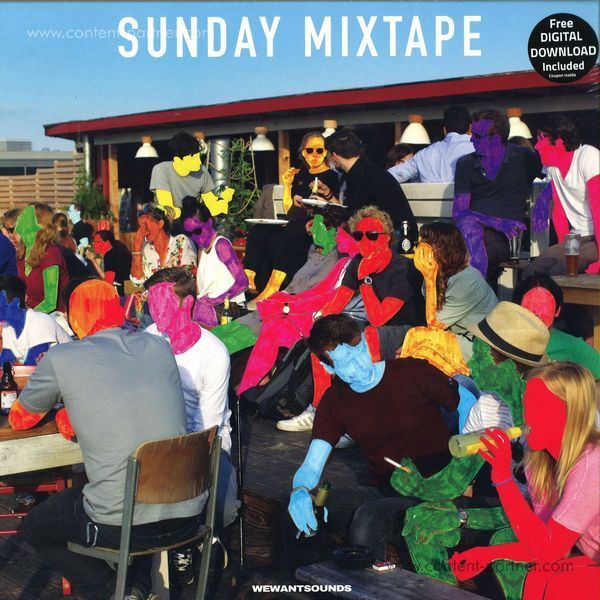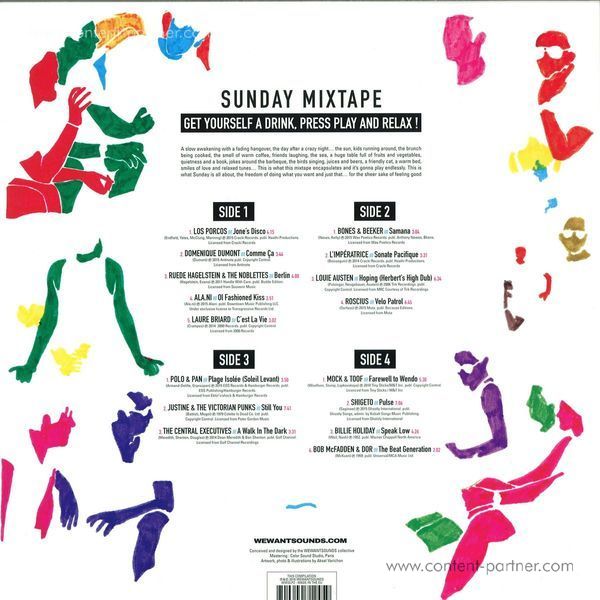 Sunday Mixtape (2LP + MP3)
1.
Jone's Disco - Los Porcos
---
2.
Comme Ça - Domenique Dumont
---
3.
Berlin - Ruede Hagelstein & The Noblettes
---
4.
Ol Fashioned Kiss - Ala.ni
---
5.
C'est La Vie - Laure Briard
---
6.
Samana - Bones & Beeker
---
7.
Sonate Pacifique (Radio Edit) - L'impératrice
---
8.
Hoping (Herbert's High Dub) - Louie Austen
---
10.
Plage Isolée (Soleil Levant) - Polo & Pan
---
11.
Punks Still You - Justine & The Victorian
---
12.
A Walk In The Dark - The Central Executives
---
13.
Farewell To Wendo - Mock & Toof
---
15.
Speak Low - Billie Holiday
---
16.
The Beat Generation - Bob Mcfadden & Dor
---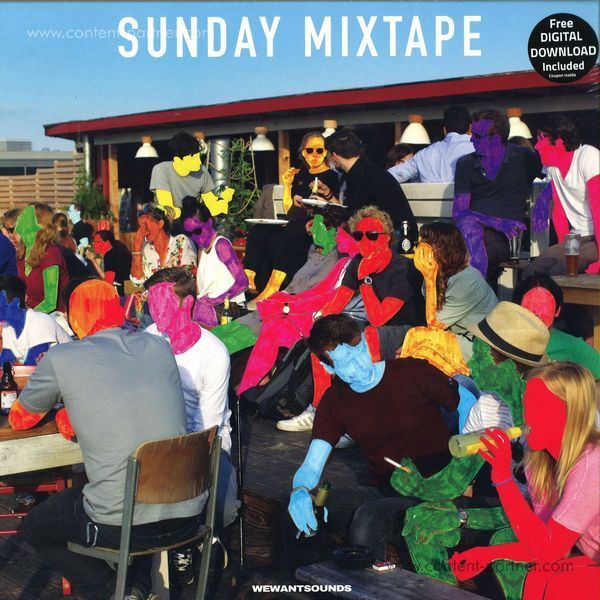 Beschreibung
Hunting down the coolest sounds around the globe, the wewantsounds crew have curated another special mix for your Lazy Sundays. Dishing out a tasteful mix of new tracks from under the radar, this selection features a string of sunny pop, indie grooves, chilled electro and relaxed disco, the whole seasoned with a couple of leftfield cult classics and classy jazz tracks for good measure. Sunday Mixtape is the perfect sonic brew that will bring you back to life after a long night or hard partying. Many of the tracks in this selection have barely been heard outside of the underground circles and feature young artists who have just sprung out to life with the exception of UK soul diva ALA.Ni and the recent success of her melancholic jazzy album and L'Impératrice, the next disco big thing out of France, whose buzz is getting louder.
Here you'll find new French nouvelle vague singer Laure Briard, US groovy duet Bones & Beeker, minimal house producers Roscius and Shigeto as well as Domenique Dumont with a buzzing balearic beat.
Sunday Mixtape also features a few cult classics such as Mock & Toof's 'Farewell to Wendo', Louie Austen's 'Hoping' and Justine & The Victorian Punks' 'Still You', a sought after NY avant disco 1979 tune led by French expat fashionista Justine and saxophonist (and frequent Arthur Russell collaborator) Peter Gordon.