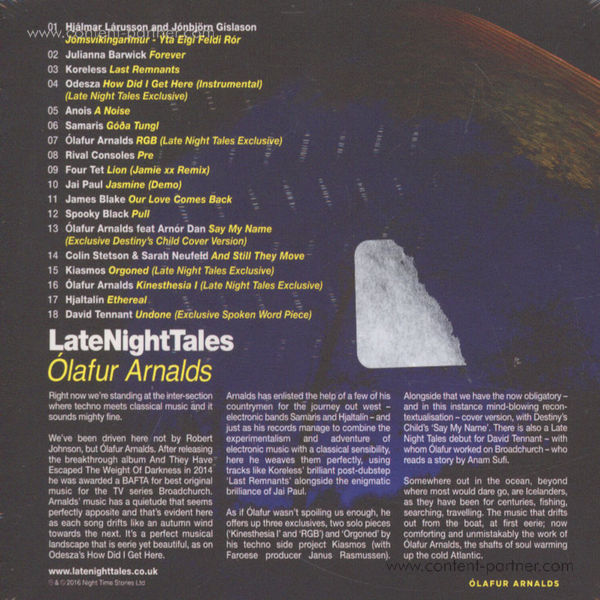 Late Night Tales (2LP+MP3/180g/Gatefold)
Genre:
Electro / Electronic
Um den Artikel zu bestellen bitte dem Warenkorb hinzufügen und zur Kasse gehen.
1.
Hjalmar Larusson & Jonbjorn Gislason - "Jomsvikingarimur - Yta Eigi Feldi Ror." (1:15)
---
2.
Julianna Barwick - "Forever" (5:30)
---
3.
Koreless - "Last Remnants" (4:22)
---
4.
Odesza - "How Did I Get Here" (instrumental) (2:00)
---
5.
Anois - "A Noise" (4:10)
---
6.
Samaris - "Gooa Tungl" (4:08)
---
7.
Olafur Arnalds - "RGB" (4:36)
---
8.
Rival Consoles - "Pre" (5:14)
---
9.
Jai Paul - "Jasmine" (demo) (4:11)
---
10.
Four Tet - "Lion" (Jamie Xx remix) (6:52)
---
11.
James Blake - "Our Love Comes Back" (3:39)
---
12.
Spooky Black - "Pull" (4:13)
---
13.
Colin Stetson & Sarah Neufeld - "And Still They Move" (2:55)
---
14.
Olafur Arnalds - "Say My Name" (feat Arnor Dan) (5:38)
---
15.
Kiasmos - "Orgoned" (5:57)
---
16.
Olafur Arnalds - "Kinesthesia" (1:44)
---
17.
Hjaltalin - "Ethereal" (6:32)
---
18.
David Tennant - "Undone" (3:51)
---
Beschreibung
After releasing the breakthrough album 'And They Have Escaped The Weight Of Darkness', in 2014 he was awarded a BAFTA for best original music for the TV series Broadchurch. Arnalds' music has a quietude that seems perfectly apposite and that's evident here as each song drifts like an autumn wind towards the next.

Arnalds has enlisted the help of a few of his countrymen for the journey out west - electronic bands Samaris and Hjaltalín - and just as his records manage to combine the experimentalism and adventure of electronic music with a classical sensibility, here he weaves them perfectly, using tracks like Koreless' brilliant post-dubstep 'Last Remnants' alongside the enigmatic brilliance of Jai Paul. It's a perfect musical landscape that is eerie yet beautiful, as on Odesza's 'How Did I Get Here'.

As if Ólafur wasn't spoiling us enough, he offers up three exclusives: his own 'Kinesthesia I' and 'RGB' and 'Orgoned' by his techno side project Kiasmos. Alongside that we have the obligatory cover version (Destiny's Child's 'Say My Name') and also a Late Night Tales debut for David Tennant, reading a story by Anam Sufi, with whom Ólafur worked on Broadchurch.

"When I was asked to do the next installation of the Late Night Tales series I thought "This will be fun and easy, only a couple of days work. No problem!". Six months later, I was still pulling my hair out in some kind of quest to make the perfect mix. As someone who has never really done mixes before, I learned a lot of things along the way and the whole experience was very inspiring. I decided to approach the mix in a similar way as I would one of my scores. This is the soundtrack of my life. I included songs from many of my friends and collaborators and tried to deliver a mix that represents who I am as an artist and where my influences are coming from - both personally and musically."